S.Korea takes steps to support savings banks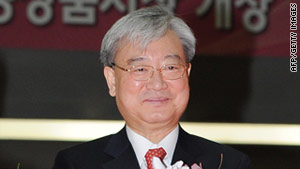 Kim Seok-Dong's Financial Services Commission is trying to calm the market after six banks were suspended recently.
STORY HIGHLIGHTS
The financial services commission suspends Busan Savings and four affiliates
The bank is the country's largest in terms of assets
Commission: The financial health of other banks is sound
The industry is struggling with bad loans from construction lending
Seoul, South Korea (CNN) -- South Korea's financial watchdog has pledged to supply liquidity and buy back bad property loans to try and calm the market after six savings banks had their operations suspended in recent days.
The Financial Services Commission suspended Busan Savings Bank, four of its affiliates and another savings bank due to insufficient liquidity. Busan Savings is South Korea's largest in terms of assets.
The commission is trying to assure customers the financial health of the rest of the 104 savings banks is sound and is asking account holders not to withdraw too much money and spark a bank run.
"The regulator will not suspend savings banks further in the first half if there are no excessive deposit withdrawals," said Commission Chairman Kim Seok-Dong said in a statement,
The commission said the South Korean government is planning to buy back around 3.5 trillion won worth of bad loans ($3.15 billion) through the state debt-clearer Korea Asset Management Corp. That decision will be voted on by the National Assembly.
The savings bank industry is struggling with bad loans from construction project-related lending.
Finances have been hit by falling real estate prices on the back of the global financial crisis.
The commission wants banks to limit their project-related loans to 30% of total loans.
Busan Savings Bank had reached the 60% level, the commission said.
FOLLOW THIS TOPIC