Candidates flood the zone as caucuses close in
updated 5:54 AM EST, Tue December 27, 2011
STORY HIGHLIGHTS
GOP presidential candidates campaign in Iowa with one week to go
Newt Gingrich returns to the state as a former frontrunner
Iowa airwaves will feature an explosion of campaign TV commercials
Biggest question remains who will capture the evangelical vote
Des Moines, Iowa (CNN) -- As the clock ticks toward the start of the primary and caucus calendar, campaigning here in the Hawkeye state kicks into high gear.
Five of the major Republican presidential candidates will campaign in Iowa on Tuesday with one week to go until the state's January 3 caucuses, the first contest in the race for the GOP nomination. And as the candidates criss-cross the state, Iowa airwaves will see an explosion of campaign TV commercials, following a brief lull for Christmas.
Texas Gov. Rick Perry, former Sen. Rick Santorum of Pennsylvania and Rep. Michele Bachmann of neighboring Minnesota on Tuesday resume barnstorming across Iowa, concentrating most of their firepower in the Hawkeye State in hopes of top-tier finishes.
Former House Speaker Newt Gingrich is back in the state for the first time in nearly a week, returning as he has lost his frontrunner status in the latest polls of likely Iowa GOP caucus-goers.
The latest survey, from American Research Group, finds a three-way traffic jam for the top spot, with Rep. Ron Paul of Texas at 21%, former Massachusetts Gov. Mitt Romney at 20% and Gingrich at 19%. Paul doesn't resume campaigning until Wednesday, with Romney ending Tuesday in Davenport, Iowa, after starting the day with campaign events in New Hampshire, which votes second in the calendar, a week after Iowa.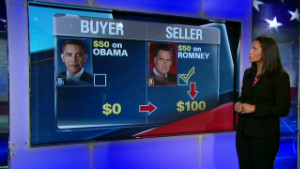 Betting on candidates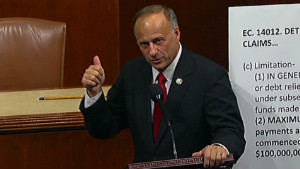 Rep. King: I must live with my GOP pick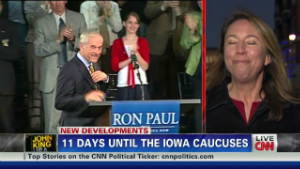 Iowa GOP race tightening
The ARG poll also indicates that 12% of likely caucus-goers are still undecided at this late date. And numerous polls also indicate that many voters say they still may change their mind on which candidate they'll back come January 3.
Turn on a TV here in Iowa and during commercial breaks you'll be bombarded with a barrage of campaign ads.
On Monday Perry's campaign went up with a new spot that touts the Texas governor's anti-Washington credentials, paints some of his rivals as D.C. insiders and highlights his calls for a part-time Congress. And the Romney campaign is going up with a new commercial on Iowa airwaves that touts the former Massachusetts governor as the presidential candidate best poised to effectively reform government.
Among those being courted are social conservative voters who are extremely influential in determining which candidate comes out on top in the caucuses. Exit polls from the last presidential election indicate that 60% of Iowa Republicans say they're born-again or evangelical Christians. But unlike four years ago, when many of them supported former Arkansas Gov. Mike Huckabee, a Baptist minister, this time around their vote could be divided among a couple of the candidates.
"The pro-life vote in Iowa is the most loyal voting block in the caucuses. They are definitely going to come out en masse," says Steve Deace, a syndicated conservative radio talk show host who's popular program is heard statewide.
"What we don't know if they will come out en masse for one candidate like they did for Mike Huckabee four years ago or whether they will come out splintered among some voters as opposed to several candidates as the polls currently show."
Huckabee's come-from-behind victory in Iowa four years ago rocked the GOP nomination race and was Romney's first serious wound in his bid for the nomination.
The question this time around is who might be the Mike Huckabee of 2012.

Part of complete coverage on

Get all the latest news at CNN's Election Center. There are race updates, a delegate counter and much more.

A black man is returning to the White House. Four years ago, it was a first, the breaking of a racial barrier. Tuesday night, it was history redux. And more.

The 2012 presidential election shattered spending records, further polarized a divided country and launched a thousand hashtags.
updated 1:41 PM EST, Thu November 8, 2012

Democratic and Republican congressional leaders continue to sharply disagree over the key issue of whether top tax rates should be raised to help resolve the looming crisis.
updated 2:24 PM EST, Wed November 7, 2012

In a historic turnaround, the ballot box is showing America's shifting attitudes about same-sex marriage.

Even though voters indicated to pollsters that their financial situation is the same or worse than it was four years ago, they put their trust in the president.
updated 4:19 AM EST, Thu November 8, 2012

The president faces a long and familiar set of challenges after riding a wave of support from moderates, women and minorities to victory.
updated 9:27 AM EST, Wed November 7, 2012

Republicans kept a lock on the U.S. House of Representatives, a crucial victory after the party failed to wrest away the presidency from Barack Obama and the Senate from the Democrats.
updated 7:34 PM EST, Wed November 7, 2012

Democrats will retain their control of the Senate after winning several closely contested races on Tuesday.