From iPod bikinis to robot journalists: 10 amazing solar-power projects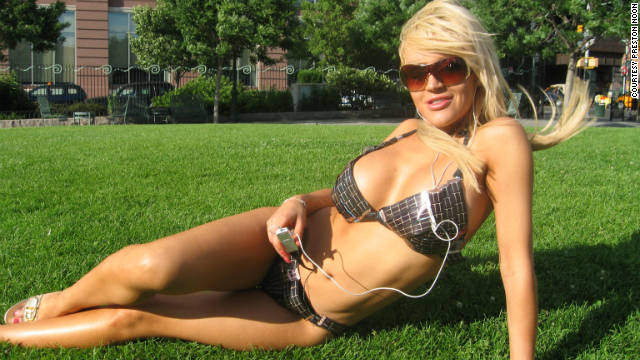 This limited-edition solar-panel bikini was released by New York based clothes designer Andrew Schneider in the summer of 2011. The device can power small electronic gadgets such as iPods and cameras via a USB port concealed within its inner linings. Users can even go swimming whilst wearing the device but must fully dry off before hooking it up.
This solar backpack is equipped with a lithium battery that has the capacity to power cell phones, MP3 players and other small electronic devices whilst on the move. Similar concepts have also been developed to charge laptop computers in recent years.
A prototype model of a solar-powered cell phone as produced by Japanese electronics giant Sharp. Although still in its infancy, solar phone technology has also been explored by Samsung, which released the Blue Earth phone -- which includes an integrated solar panel that provides battery power -- in 2009.
Argentinean actress and Greenpeace activist Barbara Torres using an iron powered by a solar battery. Like TVs, radios and mobile-phone chargers, irons are low-voltage electrical devices meaning their energy needs can be easily and sustainably met by solar power sources.
Solar ovens have proven a valuable addition to many rural communities in developing countries that are too remote to receive gas or electricity supplies. A number of companies now specialize in producing the devices and have even devised more complex models, including solar barbeques and solar grills.
The Solar Impulse plane is equipped with 12,000 solar cells that electrically power its propellers. It made its first international flight (between France and Belgium) in May 2011 and is the first aircraft that can fly without fuel both during the day and at night.
A solar-powered mobile internet cafe fashioned from a disused shipping container is part of an initiative to spread access to information in rural areas of Kenya. The project has been running since 2010 and generates all of its electricity via a series of solar panels on its roof.
The "Afghan Explorer" is a solar-powered mobile robot developed by the Massachusetts Institute of Technology. The device was designed to practice elements of journalistic reporting in hostile or off-limits environments at the beginning of the Afghan war. Despite a flurry of newspaper coverage when it was first revealed, few editors have sent cyborg reporters to cover the world's conflict hot spots.
The iconic Rockefeller Christmas tree in New York City looking as spectacular as ever. The festive centerpiece has been given its shine this year by 30,000 LED light bulbs powered by a 70 kilowatt solar generator atop the adjacent Rockefeller plaza.
The Mitticool solar fridge was developed and launched by Indian engineer, Mansukhbhai Prajapati in 2006. Made from clay, the device runs entirely on solar power and can keep items of food fresh for up to five days. A valuable addition to rural communities with no access to electricity.
Amazing solar power gadgets
Amazing solar power gadgets
Amazing solar power gadgets
Amazing solar power gadgets
Amazing solar power gadgets
Amazing solar power gadgets
solar gallery 10
Amazing solar power gadgets
Amazing solar power gadgets
solar gallery 11
STORY HIGHLIGHTS
Solar power has been adapted for use in eccentric products like bikini costumes
Experts say such items have practical as well as novelty value
Solar technology could power low-voltage consumer electronic devices
(CNN) -- A bikini that can power an iPod and a backpack that charges a mobile phone are just two of the more eccentric examples of solar-powered products to be developed in recent years.
Although there may be something of the novelty about these items, one expert at the cutting edge of photovoltaic research believes they offer good examples of how solar energy can be adapted for use in small-scale consumer products.
"Most household or portable appliances operate on low-voltage DC requirements, which is exactly what solar produces," says Douglas Halliday, a solar power expert at Durham University's Energy Institute, in the UK.
If products such as televisions, DVD players, alarm clocks and mobile-phone chargers can be adapted to meet some of their own power demands via in-built solar panels, "the overall energy saving could be quite significant," he says.
Halliday explains that as solar technology develops and becomes more efficient, the possibility to develop new kinds of creative solar solutions will also likely increase -- including the potential to incorporate solar power into clothing.
This would work, he claims, by combining thin film solar cells with clothing materials to create garments that produce electricity when exposed to sunlight.
This in turn could lead to people powering small portable electronic devices, like iPods, mobile phones or laptops, while they are on the move, negating the need for them to be charged from the mains, he adds
Check out the galley above for some of the most eccentric, and inventive, solar concepts to be developed in recent years.