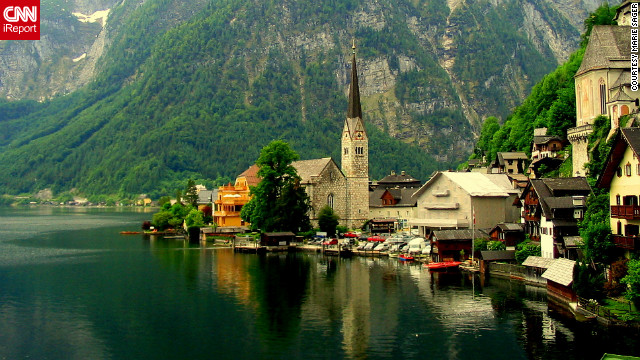 From the rugged, sculpted wilderness of Austria's mountains to its richly historic cities like Vienna, iReporters take us on a journey across this majestic country with their photos. Marie Sager took this photo while living in Austria. "Hallstatt is a hidden gem -- so much to see and do, you won't be disappointed."
"This is Terrain Park at Stubai Glacier, which is approximately an hour from Innsbruck," Ryan Duckwitz said of his photo. "Amazing mountain views at an ear popping elevation upwards of 10,300 feet!"
Steve Riegel snapped this shot while cycling on a country road near Hallstatt. "I love the country and its friendly people. One of our most relaxing and satisfying vacations ever -- great to explore by bike."
Christopher Kent Norden snapped this shot of two churches in Gaschurn from the base of the Montafon Valley town's ski resort, Gaschurn-Partenen.
Jeanne Grunhard took this photo of the Schoenbrunn Palace in Vienna. "It was a beautiful city with many things to do," she said of her 10-day trip.
Kristina Dickey took this photo of the colorful buildings of Innsbruck from a cafe on the Inn River. "The mountains and architecture are beautiful and walking around to sightsee was a lot of fun."
Susan Crandall snapped this shot while riding a cable car. Further up, she was able to see the "breathtaking view of the Swiss mountains and the Rheintal Valley overlooking Dornbirn."
Kevin Kasmai shared this photo of the Karlskirche, a Baroque-style cathedral. "I spent 3 days in Vienna -- that is hardly enough time to scratch the surface of such a historic city."
Ryan Duckwitz took this photo while studying abroad in Innsbruck. "Austria as a whole is an extremely impressive country and it is definitely worth visiting. It has some of the most beautiful mountain ranges in the Alps"
Nadine Hamad snapped this shot of "the view of the reservoir from the Franz-Josephs Hohe, the prime viewpoint for the majestic Grossglockner mountain. No description could ever convey the breathtaking beauty of the mountains."
Ryan Duckwitz snapped this shot while hiking around Nordkette Mountain, above Innsbruck.
Christopher Kent Norden visited the mountain town of Gaschurn in the Montafon Valley and took this photo of the main street.
Kevin Kasmai captured this unique perspective from the top of the St. Stephen's Cathedral.
Ryan Duckwitz took this photo as his plane was arriving at the Innsbruck airport. "Probably the most beautiful plane ride I have ever been on."
Hallstatt, Austria
Stubai Glacier, Austria
Hallstatt, Austria
Gaschurn, Austria
Vienna
Innsbruck, Austria
Rheintal Valley, Austria
Vienna
Innsbruck, Austria
Hohe Tauern National Park, Austria
Innsbruck, Austria
Gaschurn, Austria
Vienna
Innsbruck, Austria