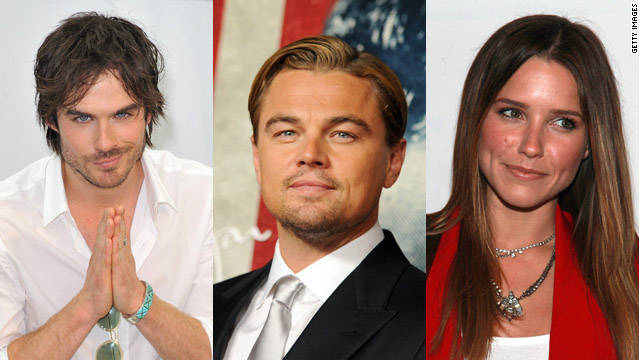 Hollywood is no stranger to charitable giving, but which celebrities are the most generous? Take a look and see which stars gave the most of their time, fame and money:
In October, rocker Jon Bon Jovi opened "Soul Kitchen" restaurant in his home state of New Jersey. The pay-as-you-go community kitchen has no prices on the menu but asks people to volunteer or donate at least $10 for their meal. The buzz around this endeavor landed Bon Jovi on the top of Forbes Magazine's "Most Valuable Celebrity Charity Relationships," which measures the amount of publicity generated by each star for their cause.
Forbes ranked Paul McCartney No. 2 on its most charitable celebrity list because of his work with PETA, People for the Ethical Treatment of Animals.
In 2002, U2 front man Bono created the ONE Campaign to end global poverty and has successfully gotten support from world leaders, who gathered for World AIDS Day on December 1. Over the past decade, Bono's campaign has helped provide access to lifesaving AIDS medications to nearly 4 million Africans.
At age 24, Leonardo DiCaprio established his own foundation dedicated to environmental causes. Since then, he has given his time and millions of dollars to those causes, and others, including Haiti relief after the January 2010 earthquake.
Justin Bieber landed on the top of Forbes' "Scrooge" list of charitable celebrities, which measured the amount of publicity created by each star for their pet projects. But Give Back Hollywood founder Todd Krim told CNN that Bieber is "very philathropic" and personally dedicates his time, recently at a children's hospital, when no cameras were rolling.
TV personality Giuliana Rancic is an active supporter of numerous charities, including Habitat For Humanity, Children's Miracle Network, and breast cancer awareness -- something that has hit close to home since her early stage breast cancer diagnosis, which she announced in October.
She may not be a household name, but AnnaLynne McCord of the new "90210" TV series has been an active supporter of the Somaly Mam Foundation to eradicate slavery. Give Back Hollywood founder Todd Krim says her dedication is an example of how young celebrities are passionate about donating their growing star status to worthy causes.
Inspired by the unconditional love of her dog, Maddie, singer and actress Kristin Chenoweth created Maddie's Corner, which helps find homes for shelter animals. Give Back Hollywood founder Todd Krim put her at the top of his list of charitable celebrities because of her active involvement in that charity and other projects.
When the U.S. Gulf Coast was inundated by a massive oil spill, "One Tree Hill" actress Sophia Bush got on a plane and headed to Louisiana to help with cleanup. Since then, she has run a marathon and recorded a benefit album to help those affected by the environmental disaster.
"Vampire Diaries" actor Ian Somerhalder is another young star who has embraced charity work. Somerhalder created his own foundation, the IS Foundation, to address environmental issues.
Top 10 charitable celebrities
Jon Bon Jovi
Paul McCartney
Bono
Leonardo DiCaprio
Justin Bieber
Giuliana Rancic
AnnaLynne McCord
Kristin Chenoweth
Sophia Bush
Ian Somerhalder
STORY HIGHLIGHTS
Todd Krim founded "Give Back Hollywood" to help link celebrities and causes
He helped connect a "Glee" star with a dance therapy charity
He talks about whether younger stars are as charitable as A-listers
Krim hopes to see everyone in Hollywood embrace the idea of giving
(CNN) -- Celebrities are no strangers to charity work: Bono created his ONE campaign to fight global poverty, Angelina Jolie travels the world as a United Nations good will ambassador, and the recently named "Sexiest Man Alive" Bradley Cooper reportedly donated thousands of dollars worth of winter clothing to homeless people in Philadelphia, where he's filming his latest movie.
Is this all part of keeping up appearances in image-centric Hollywood, or do most celebrities have a genuine desire to use their star status to help raise money or awareness for certain causes?
Todd Krim, who founded Give Back Hollywood -- which helps connect celebrities and charities -- says he thinks there's a true desire by celebrities to get involved.
"Maybe sometimes people might think it's a good idea (for a celebrity's image) ... but most of the time it's a genuine interest," Krim said. "In fact, there (are) a lot of celebrities who do charity work who don't even want cameras around."
Krim spoke to CNN about why he started the organization and whether "young Hollywood" has embraced charity and grass roots causes:
CNN: What inspired you to create Give Back Hollywood and what exactly does this organization do?
Todd Krim: I really just fell into it. I'm a lawyer and ... in 2003 I met a lot of celebrities and reality stars in social circles who were wanting to give back but didn't know how ... I met Harry (Shum Jr. from "Glee") at an event, and I asked him, 'What charities or causes do you support?' (and) he said he didn't have one charity he works closely with. Because he's a dancer, I thought he'd connect with the Andrea Rizzo Foundation (which helps children with cancer through dance therapy). Long story short, he went to Mattel Children's Hospital (in Los Angeles) and participated in a dance therapy session.
CNN: Do you think most celebrities get involved with charity as part of marketing their overall image? Or is there more of a genuine desire to use their star status to raise awareness for those in need?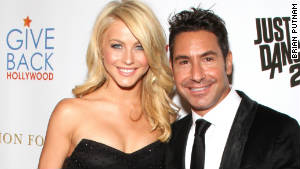 Give Back Hollywood founder Todd Krim with dancer Julianne Hough at a recent charity benefit.
Krim: I can honestly say doing this for seven years, 99% of the time it's a genuine interest. Maybe sometimes people might thing it's a good idea (for their image) ... but most of the time it's a genuine interest... in fact, there's a lot of celebrities who do charity work who don't even want cameras around. ... Some examples: Josh Hopkins from "Cougar Town" plays basketball at the YMCA or Regina King from "Southland" and "Jerry Maguire" is a cheerleading squad coach in Pasadena ... she probably never told anyone until I asked.
And that's what I love, that shows a true commitment, and genuine interest, not wanting to promote it. But then again, I have just as much respect for those who want to promote it because they set an example for other celebrities. And that's where their greatest strength lies: in using their celebrity status. And that's the main premise of Give Back Hollywood: We love working with grass roots nonprofits.
I think it's great, (top celebrities like) Lady Gaga, Justin Bieber, Angelina Jolie, do amazing work ... but I think it's important to highlight other great things by young Hollywood, Sophia Bush from "One Tree Hill" ... Serinda Swan from "Breakout Kings," Ian Somerhalder from the "Vampire Diaries" cast ... people might not realize it's not just the A-listers who are philanthropic, it's everyone from young Hollywood.
CNN: What's one instance of a small or large deed by a celebrity that has struck you as particularly inspiring?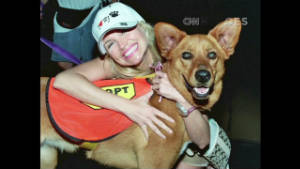 Chenoweth helping animals in need
Krim: I would say I think Justin Bieber, I have to say... I took a quick look at this Forbes article that claimed ... his charity quotient wasn't as high as his net worth, but I think that's ridiculous because from a PR and personal perspective, he's very philanthropic: I was at Mattel Children's Hospital where he personally visited patients and surprised them with a screening of "Never Say Never" ... and personally visited the bedside of a patient who was dying and a big Justin Bieber fan, even though he was late for his next appointment. He made it a point to visit her and spend time with her. So I know Justin does it from the heart. I think he's setting an example for future generations.
CNN: Is there a particular celebrity -- maybe someone with a bad-boy image -- whose generosity has surprised you?
Krim: I would say the best example of that might be Soulja Boy, who has gotten a lot of flak (he was recently arrested for gun and drug charges) ... he just came to my Children's Miracle Network event... he loves kids and he's all about giving back.
CNN: What's one area where you think Hollywood could do better in teaming up with charitable organizations?
Krim: -- I'd like to see more ... of the people behind the scenes get more involved: producers, directors, the talent agencies and the people who support the celebrities ... they have a say in whether a celebrity participates in certain things. Sometimes the celebrity doesn't even hear about (events or charities) ... I'd like to see Hollywood work more as a team, and all come together to support charity.
Right now it's sort of splintered. It should just be automatic... and it's something that the whole team from the publicists to the agents ... that should all be their focus. It's a win-win and there' s nothing better than seeing a smile on a kid's face... when you surprise them with their favorite celebrity.