STORY HIGHLIGHTS
Putin seems oblivious to the torrents of barbed wit poured on him online
He has mostly enjoyed high popularity ratings, but they have fallen sharply
Soviet-style consensus between state and people doesn't seem to work any more
Russians not demanding Putin's resignation, but free and fair elections
Editor's note: Alexey Kovalev, from Moscow, is the London correspondent for Snob, a Russian-language publication based in Moscow.
London (CNN) -- The last few months have seen the ratings of Vladimir Putin and United Russia, Russia's ruling party, drop so sharply that the Kremlin's polling agency simply ceased publishing them.
Acres of both online and traditional newsprint have been filled with critical articles, condemning the government for -- among other things -- allowing electoral fraud on a massive scale.
But Putin seems to be entirely oblivious to the torrents of barbed wit poured on him online. Unlike Dmitry Medvedev, Putin barely acknowledges the internet's existence, let alone reacts to hundreds of digitally altered images of him clutching supposedly ancient amphorae from the muddy sea bottom, shooting a whale with a crossbow or piloting a firefighting plane.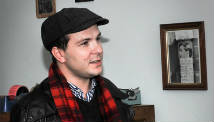 Alexey Kovalev
Putin's only source of information about the outside world seems to be his aides -- entirely loyal to him and scared of making the boss angry -- and a TV channel that never shows anything that might upset the prime minister.
This probably explains why he was so pale and visibly terrified on the night of Sunday, December 4, when the preliminary results of the parliamentary elections were announced. He had been told throughout his presidency and prime ministerial term how great and adored by the population he was -- and look how they repaid him.
It is true that Putin, once a perfectly legitimately elected president, has mostly enjoyed popularity ratings unheard of in Western politics. The mid-noughties in Russia were a relatively calm and prosperous time, with a consumer boom fuelled by high oil prices.
But you can't keep people permanently happy just by showering them with cheap mortgages, flatscreen TVs and holidays abroad. They inevitably start asking questions: Why our country is supposedly free and democratic, but at the same time we have unaccountable secret police, political prisoners and state-controlled TV channels with news spots almost entirely devoted to the beloved leader's glorious achievements?
And you can't contain the dissent by simply pumping out even more propaganda. The internet not only makes the old-school ideology obsolete, it undermines it, as almost anything said on the TV can be verified, exposed and distributed among millions of readers in a matter of minutes.
This is not going to win Putin or his party, United Russia (from which he's already started distancing himself, after seeing its ratings go down in flames) much popularity among Russians in their 20s and early 30s -- the most active and educated part of the population. They are fed up with the corruption, the lies, the insane traffic jams on roads blocked for the swift passage of another black car adorned with the now-infamous blue flashing light.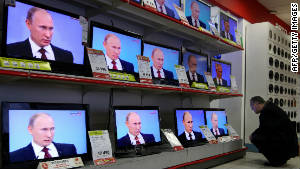 Putin calls for polling booth cameras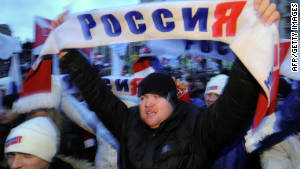 Russia launches election probe
The Soviet-style consensus between the state and the people -- we keep you fed, you don't question the way we run the country -- doesn't seem to work any more. People want answers, but aren't getting any. Anyone who asks just too many of those nasty questions is labelled as an agent provocateur paid by the U.S. Department of State to destabilize the country.
The protests that have engulfed the country in the last week are anything but unexpected in Russia. This has been brewing for quite some time. In the past few months we've seen YouTube videos of United Russia officials bribing the electorate or blackmailing it with imminent budget cuts unless people vote for the right party, reports of United Russia rallies (mostly consisting of scared public servants and students threatened with expulsion for non-attendance) and pro-Kremlin bloggers ridiculing anyone who is unhappy with United Russia's greed for power as "hamsters" or "lemmings" ready to blindly follow the West's provocations and lead the country into the dreaded "Libyan scenario."
Protests could have been avoided but Russian authorities did absolutely everything to antagonize the people even more. They flatly refused to acknowledge any vote rigging -- Vladimir Churov, head of the Central Elections Commission went as far as to suggest that the numerous documented violations were deliberate provocations staged in hired studios -- and for the hundredth time blamed the malicious forces in the West for everything. Several not too careful statements from Hillary Clinton certainly didn't help.
Now mass demonstrations are attended by people who have never protested before and even voted for the first time in their life. Both online and offline are politicized beyond all reason. Somebody has already tweeted: "Who could've thought that such thing as a cold civil war even exists."
And although Putin still seems to be the focus of the Western press, it is not really about him. It is about the people who have suddenly become aware of their own rights and power.
Putin wanted absolute power, which includes absolute responsibility, so it's natural to blame him for building the system that is now crumbling apart. But inside Russia people are demanding not Putin's resignation, but more reasonable and achievable measures -- free and fair elections and prosecution of those involved in the fraud. If Putin can provide that, he doesn't have to go.