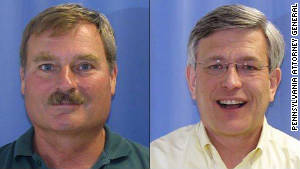 STORY HIGHLIGHTS
NEW: Mike McQueary will testify in a hearing for Gary Schultz and Tim Curley, lawyers say
NEW: The Penn State officials won't waive the hearing, their lawyers' spokeswoman says
They are charged with perjury and failing to report an alleged 2002 sexual assault
Mike McQueary told coach Joe Paterno that he saw Jerry Sandusky abuse a boy
Harrisburg, Pennsylvania (CNN) -- Former Penn State star quarterback turned star witness Mike McQueary is expected to testify Friday in a key hearing for two university officials charged with lying after McQueary had described an alleged sexual assault he witnessed in a locker room.
The two -- Tim Curley, who was Penn State's athletic director, and Gary Schultz, a university vice president who oversaw campus police -- are set to appear in a Harrisburg courtroom to decide whether there's enough evidence to warrant putting them on trial.
They are both charged with perjury and failing to report suspected child sexual abuse. It relates to the larger case involving Jerry Sandusky, a longtime football coach at the school accused of more than 50 counts involving sexual acts with 10 boys since 1994.
The two Penn State officials' fate may hinge on what McQueary, now 38, saw on March 1, 2002 -- as well as what he told others about it.
Martine Charles, a spokeswoman for Schultz's and Curley's Pittsburgh-based lawyers, said Thursday their clients look forward to hearing from McQueary, whom they believe will be on the witness stand.
Sandusky, who was Penn State's defensive coordinator when he retired in 1998, met his accusers through a youth charity he founded, The Second Mile. According to prosecutors, he would hug, tickle and wrestle with the then-boys before allegedly crossing the line and sexually abusing them.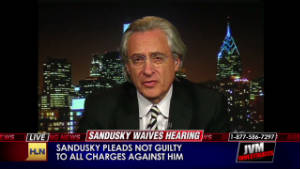 Alleged Sandusky victim's attorney speaks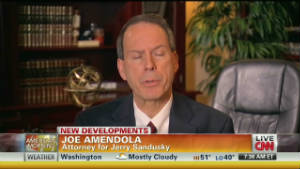 Sandusky lawyer: No plea discussion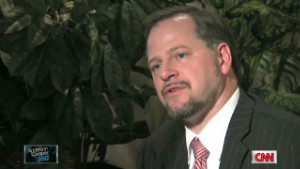 Sandusky attorney's 'shower theory'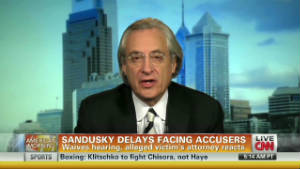 Sandusky victim lawyer on waived hearing
In early November, the summary of a grand jury report was released contending that Sandusky sexually abused the boys in the basement of his home, hotel rooms, a high school wrestling room and -- based on McQueary's account -- the locker room for Penn State's football team.
Sandusky lawyer says comments misconstrued
Sandusky waived his right to a preliminary hearing on Tuesday in Centre County, a two-hour drive from Harrisburg. From that courthouse's steps, his lawyer Joseph Amendola took shots at McQueary's credibility during a long talk with reporters.
He suggested that had McQuery told longtime head football coach Joe Paterno, Curley and Schultz that he had seen Sandusky raping a boy in the showers, they would have done more than order him to stop bringing Second Mile children on campus.
"If we destroy McQueary's credibility, then we put the credibility of all others involved into question," Amendola told reporters.
According to the grand jury's report, after hearing all the testimony, it decided that McQueary is a credible witness.
Sandusky has pleaded not guilty to all charges, while denying any sexual activity with his accusers. Regarding the 2002 incident in the showers, he has said that he and the boy were just "horsing around."
According to the grand jury's report, McQueary testified that as he walked into the locker room, he saw the lights were on and heard the showers running. He also heard "rhythmic slapping sounds" that he believed to be sex.
As he put his sneakers into his locker, McQueary looked into the shower and saw a naked boy, approximately 10 years old, "with his hands up against the wall being subjected to anal sex by a naked Sandusky," the report said.
McQueary -- who was an assistant football coach when he was placed on administrative leave this fall amidst the scandal -- told the grand jury he was shocked, then noticed both Sandusky and the boy saw him. He left the building "distraught," according to the grand jury's report.
What McQueary told people next -- and whether he reported seeing the act of sodomy, as the grand jury says -- is what makes him a key witness in the perjury and failure-to-report case against Curley and Schultz.
McQueary first reported what he saw to his father, and told Paterno "what he had seen" the next day. The head coach himself testified to a grand jury that McQueary told him he saw Sandusky "fondling or doing something of a sexual nature."
About a week and half later, McQueary told Curley and Schultz that "he had witnessed what he believed to be Sandusky having anal sex with a boy" in the showers, the grand jury's report said.
Both Curley and Schultz deny that McQueary told them the boy had been raped in the showers, according to the grand jury's report. They said he spoke of "inappropriate" or "disturbing" contact that made him "uncomfortable."
Specifically asked if McQueary reported seeing an act of sodomy, Curley responded, "Absolutely not," the grand jury reported.
Schultz testified that he recalled being told at a meeting that Sandusky "may have grabbed the boy's genitals while wrestling" and agreed it would be inappropriate sexual conduct between a man and a boy, the grand jury said. But he also testified that the allegations made were "not that serious" and that he and Curley "had no indication that a crime had occurred."
Neither man reported what they'd been told to local or campus police.
"The grand jury found that portions of the testimony provided by Curley and Schultz were not credible," the report said.
Curley, 57, is now on leave, and Schultz, 62, retired in the wake of the allegations. Days later, Penn State trustees ousted President Graham Spanier and Paterno, given criticism that they could and should have done more.
Prosecutors will be out in force for Friday's hearing before Judge William Wenner. According to the state Attorney General's office, Chief of Staff Bruce R. Beeme will lead the prosecution along with deputy attorneys general Frank Fina and E. Marc Costanzo.
Caroline Roberto and Tom Farrell, the Pittsburgh-based attorneys representing Curley and Schultz, said in a statement earlier this week their clients are eager "to start the process of clearing their good names and demonstrating that they testified truthfully to the grand jury."
Charles, the spokeswoman for the lawyers, said Thursday their clients won't follow Sandusky's lead and waive their preliminary hearing.
"Mr. Schultz and Mr. Curley will be in court Friday," Charles said. "They will not waive the hearing or their appearance."