STORY HIGHLIGHTS
NEW: The gunman, named as Nordine Amrani, had significant gunsmith skills, an official says
A cleaner found in a home next to gunman's workshop was shot in the head, an investigator says
People in Liege are in shock, saying they cannot understand why it happened
The number of victims rises to at least 130 wounded and five dead, plus the gunman
Liege, Belgium (CNN) -- A man who went on a grenade and gun attack in the Belgian city of Liege left no explanation about why he did it, authorities said Wednesday.
At least 130 people were injured in the attack near a Christmas market in a city center square, hospital officials said Wednesday, and at least five dead plus the gunman.
Nordine Amrani, the 33-year-old suspect, killed himself at the end of the shooting rampage Tuesday, officials said.
Authorities ruled out terrorism as a motive, saying he acted alone.
After the rampage, police found a dead woman in a residence next to a workshop where Amrani once grew marijuana, a local police spokesman said Wednesday.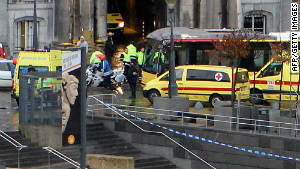 5 dead, many injured in Belgium attack
Police said the woman, a cleaner who was in her late 40s, was killed before the suspect launched the larger attack in the city center.
A senior investigator, who could not give his name because he is not authorized to speak to the media, told CNN the woman was shot in the head but said police were puzzled about the reason why.
Other victims included a 23-month-old baby who died in a hospital late Tuesday after being wounded in the attack on the square, said Katrin Delcourt, a spokeswoman for the provincial governor.
Two teenage boys, ages 15 and 17, and a 75-year-old woman, were also killed, prosecutor Danielle Reynders said.
Dr. Eric Steckx, of the Citadelle hospital, the largest in the Liege area, told reporters 32 people had been admitted for treatment. Twelve were still at the hospital, with two in intensive care.
First responders from the Citadelle hospital were on the scene within a few minutes of an alert being raised, he said. The grenades did more damage and injured more people than the gunfire, he added.
Belgium's third-largest city was in shock the day after the attack, which was like nothing the country has experienced before.
Market stall holder Julie Six-Bourgoin was still shaking as she talked about it a day later, calling it "horrible" and comparing its effect on the peaceful country to that of the September 11, 2001, attacks on the United States.
Other people in the city said that Christmas would not be the same and that they could not understand why the attack occurred.
Amrani left his home Tuesday with a pistol, a semi-automatic rifle and the grenades in his bag, said Reynders, the prosecutor.
He hurled three grenades and fired weapons from on an elevated walkway into the crowded Place St. Lambert square near a court building, she said.
Police had asked the attacker, who was earlier convicted on drugs and weapons offenses, to come in for an interview in an ongoing investigation, the prosecutor said. He had never been charged with terror offenses but had been accused of a range of sexual offenses.
A senior Belgian security source, who has been briefed on the investigation but did not want to be named because he was not authorized to speak to the media, said Amrani's police meeting scheduled Tuesday was for suspected rape.
Amrani was on conditional parole, the provincial governor's spokeswoman said, but did not give details of the police investigation.
Delcourt described Amrani as having significant gunsmith and firearms skills. For a period up to 2008, he held a French hunting license under which he bought at least one weapon, she said, but that license was revoked as a result of the police investigation that led to his conviction on arms and drugs trafficking offenses in 2008.
The weapons he owned then were destroyed and police are continuing to investigate whether the arms used in Tuesday's attack were bought on the black market, Delcourt said.
One of the weapons he had, a light automatic rifle, is a standard weapon in the Belgian army, she said.
Authorities will conduct an autopsy in part to see whether Amrani was under the influence of drugs during the attack, the Belgian security source said.
During Amrani's 40 months in jail, he was not diagnosed with any mental disorder or seen to be politicized before being released on conditional parole, according to the source. He said authorities have found no ties to Islamist terrorism.
Liege resident Kevin Hauzeur said he ducked for cover when he heard a "huge explosion and two or three gunshots" in the city center.
A lot of people were in the area at the time to shop at the Christmas market, Hauzeur said. The crowd was "spinning around, crying -- it was really chaotic," he said.
By late Tuesday, the cordoned-off square was deserted apart from dozens of police in fluorescent jackets.
Municipal cleaning vehicles sprayed water in the central market area, where earlier footage had shown blood spilled across the sidewalks. A large Christmas tree remained illuminated there despite the day's tragic events.
CNN's Laura Smith-Spark, Laura Perez Maestro, Max Foster, Jo Shelley, Samuel Burke, Aliza Kassim and Antonia Mortensen contributed to this report.