Gadget gifts for the fitness forward
updated 7:07 AM EST, Wed December 14, 2011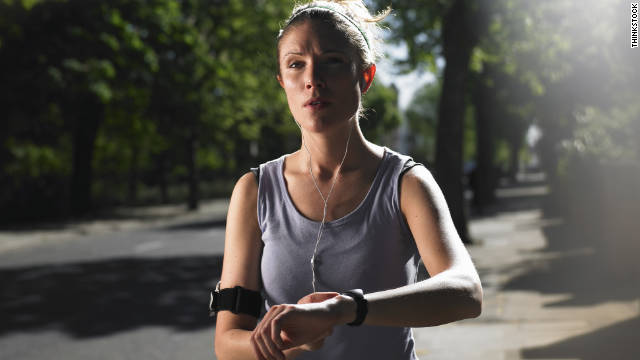 Have a friend or relative who's a fitness fanatic? Here are a few healthy gadget gifts they are sure to enjoy.
The
Fitbit Ultra
is a small device that lets you wirelessly log meals, track sleep and combine data online for a look at your progression. The built-in altimeter goes a step further than a pedometer to use 3-D motion sensors to determine exactly how many stairs you have climbed. Cost: $99.95.
Zeo Sleep Manager - Mobile
allows you to track your sleep habits using a mobile device. The app is used in conjunction with the Zeo Software headband, which records the length and quality of your sleep as well as other factors that may be keeping you from getting a good night's rest. The app is available on iPhone and Android smartphones. Cost: $99.00.
The
Need a stocking stuffer? Yoga devotees will love the
All-In Yoga HD
app, which is available on iOS or Android. The app offers more than 300 poses with audio and video guides and 40 pre-programmed yoga routines. Users also have the ability to create their own routine for personalized results. Add in some relaxing music and you have a prescription for stress reduction in the new year. Cost: $5.99 on iTunes.
The
MOTOACTV
is like having a "personal trainer and DJ with you while you run, bike or walk." The device records your speed, distance and calories burned then uploads them to your account. You can then register for an Internet training system to create exercise goals and a specific workout regimen. MOTOACTV is sold in two models, 8 GB and 16 GB, and creates a high performance playlist based off your performance when certain music is played. Cost: $249.99.
Withings Body Scale
measures you and up to seven other users in terms of weight, muscle mass and fat mass. It also shows your body mass index (BMI) in comparison to the reference ranges in each profile, all of which can be viewed with the free Withings app on an iPhone, iPad or Android device or from any Web browser through its Wi-Fi capabilities. Cost: $159.00.
While we don't often recommend buying someone a scale for Christmas, this one is pretty cool. The
The
SwimSense
is a great gift for any competitive or lap swimmer. The waterproof watch looks at the interval times, stroke count, stroke rate, distance and the amount of calories burned when swimming. The results can be uploaded online to be analyzed. Cost: $199.99.
The
iMuscle app
is one of the highest-rated fitness apps on iTunes. Best for the body builder in your group, iMuscle allows users to hone in on the specific muscles he or she is working with a 3-D image. It also works in reverse -- recommending exercises for improving certain muscle groups. Cost: $4.99 on the iPad, $1.99 on the iPhone. Now to figure out how to wrap it...
Zeal Z3 goggles
. Its polarized, light adjusting, anti-fog lens is fancy enough -- but this integrated smartgoggle also has an altimeter, jump analytics, speedometer, run count, temperature gauge and GPS technology. Cost: $549.00
Outdoor enthusiasts who prefer tackling mountains over heading to the gym will love the
2011 healthy gift gadget guide
Fitbit Ultra
Zeo Sleep Manager
All-In Yoga HD
MOTOACTV
Withings Body Scale
SwimSense
iMuscle
Zeal Z3 Goggles