STORY HIGHLIGHTS
Dean Obeidallah: I'm stoked for the GOP presidential debate moderated by Donald Trump
Finally, a debate led by a master showman with little concern for facts, Obeidallah says
Obeidallah: Instead of endorsing a candidate, Trump could declare: "You're all fired!"
It's about time we treat our candidates like reality show contestants, Obeidallah says
Editor's note: Dean Obeidallah is a comedian who has appeared on Comedy Central's "Axis of Evil" special, ABC's "The View," CNN's "What the Week" and HLN's "The Joy Behar Show." He is executive producer of the annual New York Arab-American Comedy Festival and the Amman Stand Up Comedy Festival. Follow him on Twitter.
(CNN) -- There's a big red circle around a certain day on my calendar in late December, and, nope, it's not Christmas. It's December 27 -- the date Donald Trump will be moderating a Republican presidential debate on ION Television. (I have also circled December 23 to give myself four days to find out exactly where ION Television is located on my cable system.)
But now, alarmingly, Trump is reportedly thinking of canceling the debate because it has not been embraced by many of the Republican presidential candidates.
All I can say is: Mr. Trump, if you are reading this--or if one of your many assistants are reading this to you--please don't cancel the debate!
This past Saturday's Republican debate did have its moments, but it was missing one thing: You! "The Donald" -- business tycoon, reality show star, a man who has his own signature cologne, "Donald Trump: The Fragrance," own line of water, Trump vodka, and even a men's tie collection bearing the Trump name.
I implore you to ignore the professional politicos who have come out adamantly against your debate, such as Ari Fleischer, President Bush's former press secretary, who labeled the debate: "An invitation to a circus." And Mark McKinnon, a former Bush advisor, who declared: "This Trump debate is proof the inmates have taken over the asylum."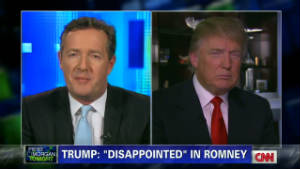 Trump: 'Disappointed' in GOP no-shows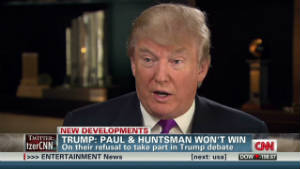 Trump close to endorsing candidate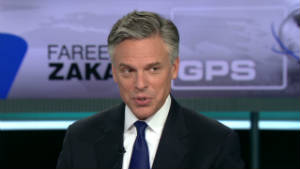 Jon Huntsman's take on Donald Trump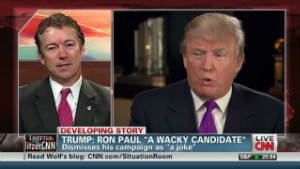 Rand Paul issues challenge to Trump
Sure, Jim Lehrer and Wolf Blitzer are thoughtful, well-informed journalists who have proven to be very adept as the moderators of past presidential debates, but has either of them had a line of steaks named after him? Nope. Trump has.
And what makes this event even more exciting is that you have taken a page from your mega-hit show "The Apprentice" and indicated that you just might endorse one of the candidates sometime after the debate. It's not enough that these candidates are running to be leader of the free world -- now they have the extra bonus of possibly being The Donald's anointed one. From an electoral point of view, your endorsement will likely sway hundreds and hundreds of voters.
But knowing you, I would not rule out a classic Trump surprise. Instead of endorsing any of the candidates, you could glare at these wannabe presidents and declare: "You're all fired!" Then, in quintessential Trump fashion, you'd hire yourself as president. Genius!
No one could dispute this all adds a new dimension to the presidential debates. There's absolutely no chance any of this cool stuff happening if Tom Brokaw were the moderator.
Indeed, this scenario sounds so amazing to me that I propose we mandate that all future presidential debates be moderated by reality show stars.
How much fun would it be if presidential debates were hosted by people like Mike "The Situation," "The Cake Boss" Buddy Valastro, the bald guy from "Pawn Stars," or a gaggle of Kardashians?
I can assure you that with these moderators, the debate questions would be far more interesting. Instead of boring stuff about job growth, the impact on the U.S. financial markets if the eurozone collapses, or elections in Egypt, our reality show stars would focus on issues like: How to get great abs? Who knows the best remedies for a hangover? What is the best self-tanner? Which candidate has the coolest tattoos? (I'm guessing Ron Paul.)
And why stop with debates? Let's also subject our candidates to a physical challenge to see what they are like under fire. I propose the candidates all go on the reality show "Wipeout." How priceless would it be to see Rick Perry or Michele Bachmann trying to avoid being batted into a pool by a huge padded pole?
There could even be a red carpet for our celebrity hosts and presidential candidates as they arrive. Throngs of paparazzi and fans lined up, yelling things like: "Newt, who are you wearing?"
But back to your debate, Mr. Trump. If you're still on the fence about going forward with the debate, this should push you over the edge: Sarah Palin has now endorsed it. What more evidence do you need to tell you if this debate is a good idea or not?
Follow @CNNOpinion on Twitter
The opinions expressed in this commentary are solely those of Dean Obeidallah.