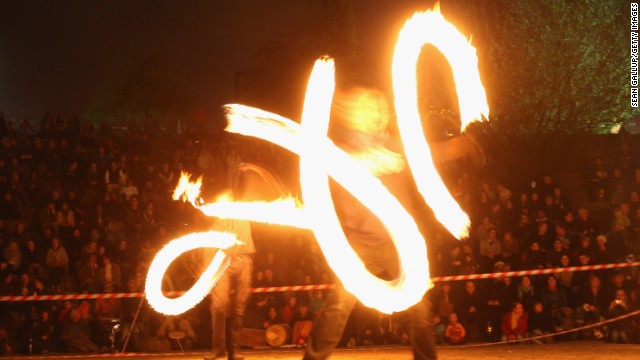 Fire dancers perform on Walpurgis night on April 30 in Berlin, Germany. Walpurgis night is celebrated in many parts of central Europe as the end of winter, with the ritual burning of a straw witch.
An owl butterfly (L) and a great eggfly sit on an orange slice at the tropical house of the zoo in Krefeld, western Germany, on April 29.
An ethnic Dayak man from Central Kalimantan dances during the Dayak Festival in Jakarta, Indonesia on April 28.
Ayrton Badovini of Italy competes for Team Ducati Alstare during the World Superbikes Qualifying Session on April 27, 2013 in Assen, Netherlands.
Fans enjoy the atmosphere at the Stagecoach California's Country Music Festival on April 26, 2013 in Indio, California.
Fans let off flares during the UEFA Europa League semi-final first leg match on April 25 between FC Basel 1893 and Chelsea in Basel, Switzerland.
An octopus is displayed at the State Museum of Natural History in Karlsruhe, southern Germany, as part of the exhibition "Bottomless -- Through the Air and Under Water."