Humanoid robots go on show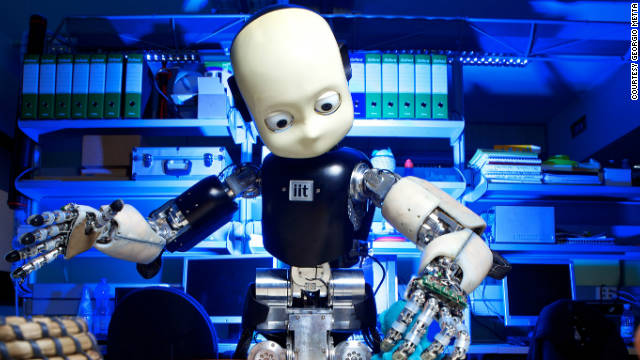 Developed at the Italian Institute of Technology, iCub learns about itself and the world around it by playing with people.
Eccerobot is an EU-funded project that aims to build "the first truly anthropomimetic robot." That means, rather than just copying the external appearance of a human, it is built by mimicking a human's bones, joints, muscles, and tendons.
Couch Jouzas was built at Kaunas University of Technology in Lithuania. Described as a "personal robot trainer," it is intended to help users keep fit.
"Nao" was created by Aldebaran Robotics, in France. Described as a "versatile, fun and permanently evolving humanoid robot," Nao is intended to help autistic children, who Alderban says "are often attracted to technology because of its predictability."
Also being used to help autistic children, KASPAR was created at the UK's University of Hertfordshire. Its face is a silicon-rubber mask and its eyes are fitted with video cameras. Its mouth can open and smile.
CHARLY was also designed at the University of Hertfordshire. Part of a project to find out how people like their robots to look, CHARLY's projected face slowly morphs to look like the faces of those around him.
Developed by Wroclaw University of Technology, in Poland, "Flash" has a selection of robotic heads that show different emotions. It's part of a project that aims to better understand how humans recognize emotions and to teach robots to read social situations.
The "Shadow Dexterous Hand" is the work of the Shadow Robot Company. It says the mechanized hand can mimic all the movements of a human hand and can be fitted to various robots.
The "Concept" project is the work of the University of Plymouth, in the UK. Computer-generated responses are projected onto its "face," which contains cameras and microphones.
iCub
Eccerobot
Couch Jouzas
Nao
KASPAR
CHARLY
Flash
Shadow Dexterous Hand
'Concept' robot
STORY HIGHLIGHTS
Robotville Festival taking place at London's Science Museum.
Humanoid robots include CHARLY, which is being used to help autistic children
iCub robot learns by playing with people
London (CNN) -- When it comes to building cutting-edge robots, it seems their designers have a tendency to create them in their own likeness.
These eerily life-like, and occasionally just eerie, robots are just some of the exhibits that went on display Thursday at the Robotville Festival at London's Science Museum.
From the Italian-built iCub, which learns by playing with people, to CHARLY, which is being used to help autistic children, these robots mimic humans in order to help them learn about people and communicate with them.
The exhibition doesn't just feature humanoid robots -- there are also robots that swim and ones that swarm, some that explore and others designed for domestic use.
It is being run in partnership with EUNIC and the European Commission Robotics program and ends on December 4.