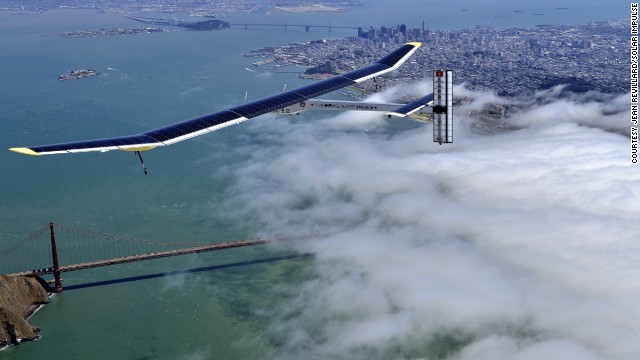 Solar Impulse, a Swiss-made, solar-powered aircraft, soars above San Francisco's Golden Gate Bridge in April. The one-of-a-kind aircraft is on a five-leg voyage across the United States.
Bertrand Piccard, one of two pilots who take turns flying the Solar Impulse, comes from a family of adventurers. In 1999, Piccard was part of a two-man team that became the world's first to circle the globe in a balloon.
When Solar Impulse is on the ground, it requires a carefully orchestrated landing crew to make sure it remains in proper position.
The plane's silicon solar cells are built into the forward and rear wings, rather than glued on. They number nearly 12,000.
The aircraft's cruising speed is about 43 mph. Its maximum cruising altitude is about 28,000 feet.
Solar Impulse, lit with more than a dozen solar-powered lights, touches down at Phoenix Sky Harbor Airport on May 3. It's the first aircraft to fly for 24 continuous hours only on sun power.
Solar Impulse co-pilots Andre Borschberg, left, and Piccard celebrate completion of the first leg of their American mission on May 3.
In 1990, Eric Raymond's Sunseeker I became the first solar-powered aircraft to cross the United States. He completed the journey in 21 segments.
NASA's Helios was a prototype high-altitude, long-duration unmanned solar-powered aerial vehicle. In 2001, Helios reached an altitude of 96,863 feet, breaking an official world record altitude for a non-rocket-powered aircraft. In
according to Boeing's website
. It's expected to perform an initial demonstration flight in 2014.
Boeing is building its SolarEagle unmanned sun-powered aerial vehicle for the U.S. Department of Defense. With a wingspan of 400 feet, the aircraft is designed to fly for five years nonstop to perform "communications, intelligence, surveillance and reconnaissance missions from altitudes above 60,000 feet,"
The Solar Impulse soars high above the streets of Paris in 2012.
Betrand Piccard prepares for takeoff.
The wings of Solar Impulse measure more than 200 feet from wingtip to wingtip. That's longer than the width of a Boeing 747 Jumbo Jet. Yet the plane weighs only about 3,500 pounds -- about the same as a Honda CR-V.
Bertrand Piccard (left) and Andre Borschberg pose beside the aircraft.
An attempt to fly around the world is planned for 2015.
Solar Impulse
In the cockpit
On the ground
Solar cells
Slow but steady
Night flying
Celebration
Sunseeker I: First solar plane to cross the U.S.
NASA's Helios
Boeing's Solar Eagle
Paris
Pre-flight
Wide and lightweight
Co-pilots
Dreams of circumnavigation