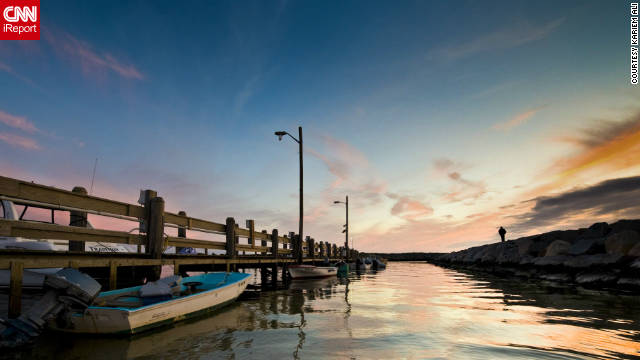 iReporters shared their favorite photos of Massachusetts. Kariem Ali enjoyed the challenge of capturing this "perfect sunset" at Menemsha Beach. "Massachusetts will always be home," he said.
Lynette Cunday captured this serene scene on Acorn Street's cobblestone expanse in Beacon Hill. "The city is so packed with little travel gems that if you do get a little lost you stumble upon a quiet park or busy market with fresh fruit that it becomes a memory worth the detour."
Christopher Mushaw took this photo of October snow in Sheffield. "It's a beautiful area in the Berkshires that really exemplifies what I feel 'New England' is about."
Karen Cornwell snapped a shot of The Old Paint Factory in Gloucester Harbor. "The relaxing atmosphere of the Atlantic Ocean in Massachusetts is totally different than it is in the South. In my dreams, I retire there!"
Janusz Janas shared this photo of fall foliage in Becket. "I love traveling back roads and out-of-the-way places documenting the seasons and great people. I will always be back during different seasons."
Hiten Java shot this "beautiful reflection on a calm evening in Provincetown." "If you are looking to spend some time outside the beaches, then Provincetown is a really good town to visit."
Girish Pilgaonkar took this photo of the Trinity Church reflection.
Michael Duggan took a photo of a New England surfer taking on a Nor'easter. "I love the North Shore [near] Boston. There is a lot of history, the people are friendly and the beaches are great."
Catherine Villar shared this photo of the historic Massachusetts State House in Boston.
Lynette Cunday shared a photo of "the view from the Prudential Center's Skywalk Observatory after sunset of the John Hancock Tower and Boston Harbor with Logan Airport in the background."
Patty Kast captured this photo of a "sea of color" on Marconi Beach in Cape Cod. "The beach scene is exactly how I remembered it, except the umbrellas were black and white then."
Karen Cornwell shared this photo of the Thatcher Island Lighthouses. "I am a history buff and love lighthouses. I thought they just had a indescribable rustic beauty."
Lynette Cunday captured this view from the Prudential Center's Skywalk Observatory. "Boston and the surrounding area had everything in one vacation. If you love cities and culture ... it had it. If you want countryside or a coastal getaway ... it had it."
Gabriel Calemmo took this photo of the marsh in Cape Cod. "Cape Cod is the hidden gem of vacation spots in the Northeast."
Martha's Vineyard
Boston
Sheffield
Gloucester
Becket
Cape Cod
Boston
Boston
Boston
Boston
Cape Cod
Thatcher Island
Boston
Cape Cod