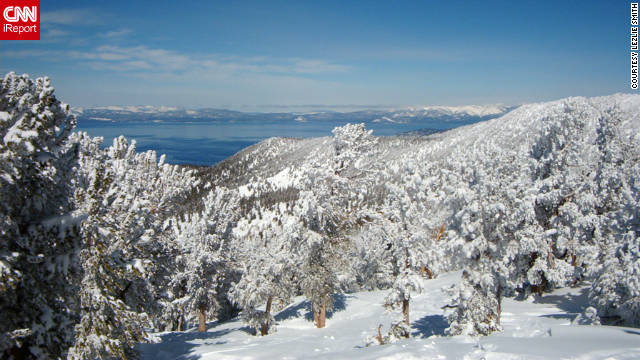 iReporters sent us snowy photos of their favorite ski trips. Lezlie Smith shared this photo she took while skiing the slopes of Lake Tahoe. "It's a fun town and gorgeous scenery -- sometimes it's hard to ski because you want to just stop and stare at all the beauty around you!"
Keith Hollis had one of his friends snap a shot of him with the Nagano mountains in the background at Happo One in Japan.
Nelson Rhodus snapped this shot of Telluride during the holidays. "The main venues are fantastic, but there are also wonderful back country bowls and off-trail areas."
"This picture of Cervino was taken before the sun rose over the mountains from the apartment I was staying at in Breuil-Cervinia, Italy," Kirsten Adams said of her photo. "The luminosity of the pink clouds was phenomenal, almost ethereal."
Patrick Kerr, left, poses with his "ski buddy" Mike Sheehy after "the best ski day ever." "It had been snowing all day and it was fresh powder up to our knees with nary a soul around. This was at the end of our last run."
Jerry A. Palma took this photo "within an arm's reach" during his heliskiing trip in Blue River. "It's the only way to ski. Once you've heliskied, groomed runs are just not the same anymore."
Rick Bragg took this photo of skiers on the glaciers of Mount Rainier in Washington. "Everyone should see this region at least once in their life. It's truly a national treasure."
iReporter Belle1708 took this photo at Snowshoe. "Snowshoe really exceeded our expectations. Having only been out west, I was nervous about a smaller mountain. But Snowshoe really knows what they're doing, and we felt like we were really in a big mountain ski village."
Joseph Geary shared this photo of himself (middle) with his friends Jay (left) and Pat "on the summit of Mount Washington. "We stood on the 6,288 foot tall mountain in the middle of winter and watched the sun rise over the Atlantic Ocean about 75 miles away on the morning after our climb."
"A friend took this picture of my husband, Tony, and me skiing in heavenly Lake Tahoe," Lezlie Smith said of this photo she shared.
Kirsten Adams took this photo while venturing on a ski trail in Cervinia. "The layers of mountain peaks were breath-taking," she said.
Nelson Rhodus had nothing but good things to say about his experience in Telluride and shared this photo of his family. "Telluride not only is a fantastic skiing/snowboarding destination, but has quite historic significance as well."
Lake Tahoe, California
Nagano, Japan
Telluride, Colorado
Breuil-Cervinia, Italy
June Mountain, California
Blue River, British Columbia
Mount Rainier, Washington
Snowshoe, West Virginia
Mount Washington, New Hampshire
Lake Tahoe, California
Breuil-Cervinia, Italy
Telluride, Colorado