Podcast: If Markham, Ontario, can vote online, why can't we?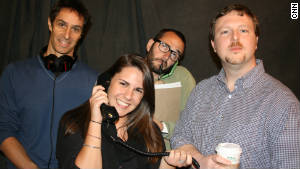 STORY HIGHLIGHTS
It makes sense to include voting in the online conversation, crew agrees
Tech fail of the week goes to Ashton Kutcher, no longer the king of Twitter
You can listen or subscribe to our Tech Check podcast on iTunes
(CNN) -- In the wake of Election Day, Doug Gross, John Sutter and Stephanie Goldberg discuss the pros and cons of online voting on the Tech Check podcast.
In a time when almost any daily task -- banking, shopping, etc. -- can be done online, it makes sense to include online voting in the public conversation, the crew agrees.
Other countries have. About 80 Canadian cities and towns have experimented with Internet voting in municipal elections. Estonia has allowed Internet voting for all of its citizens since 2007.
The gang says online voting could increase voter participation, but critics argue that hackers might feel compelled to intervene.
In other news, our tech fail of the week goes to Ashton Kutcher, the king of Twitter -- or is he?
Kutcher tweeted about the firing of former Penn State coach Joe Paterno on Wednesday night without knowing the full story.
"How do you fire Jo Pa? #insult #noclass as a hawkeye fan I find it in poor taste."
However, it was his tweet that the "Two and a Half Men" stars's 8.2 million followers found in poor taste, given the allegations of child rape that were brought against the school's former defensive coordinator, Jerry Sandusky.
Kutchter recanted his post shortly after, explaining that he didn't have all the facts.
He later posted a blog on A+K about his plans to turn his feed over to his team at Katalyst "to ensure the quality of its content."
To listen to Tech Check, click on the audio box to the left. To subscribe, you can add Tech Check to your RSS feed here. You can also listen, or subscribe, on iTunes.