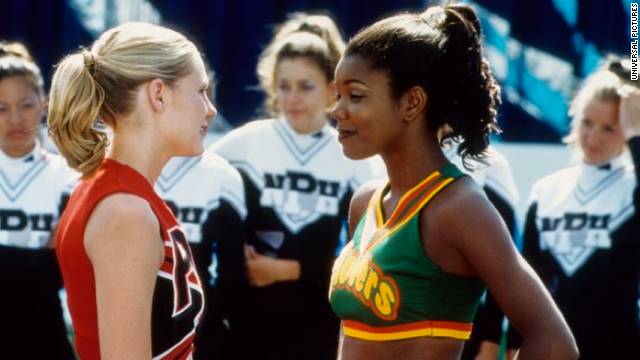 After 11 years and five films, "Bring It On" will finally make its musical debut. The high school comedy about rival cheer squads inspired "Bring It On: The Musical," which kicks-off its national tour in Los Angeles on Friday. The musical features all new characters, original songs and, of course, cheerleading. Here are some other flicks we wish would hit the stage:
"Dazed and Confused" is another high school comedy that practically begs for a musical adaptation. The seniors could make the incoming freshman sing and dance rather than covering them in condiments and forcing them to chew on pacifiers.
When was the last time you saw a really great musical on ice? Just image the Flying V accompanied by an inspirational tune and harmonious quacking. Yes, we're talking about, "The Mighty Ducks: On Ice."
Howard Beale is "mad as hell" that "Network" hasn't been adapted for the stage yet. The 1976 drama could benefit from a dance number or two.
As if "Bridesmaids" wasn't funny enough -- a few musical numbers would take the female-driven buddy comedy to a whole new level. Maybe Wilson Phillips would partake.
"Just keep swimming, just keep swimming." If people can pose as giraffes and gazelles in "The Lion King" musical, pulling off a clown fish and a sea turtle should be a piece of cake for "Finding Nemo: The Musical."
Ice Cube and Chris Tucker's "Friday" could make for a hilarious, R-rated, musical comedy.
Whether you prefer the original version, or the 2001 reboot, "Ocean's Eleven: The Musical" would most certainly draw crowds.
A "Coyote Ugly" musical could get a bit raunchy, but any story about a struggling songwriter might as well be adapted for the stage.
How much cooler would "Predator" have been if all the extraterrestrials could sing and dance?
'Bring It On'
'Dazed and Confused'
'The Mighty Ducks'
'Network'
'Bridesmaids'
'Finding Nemo'
'Friday'
'Ocean's Eleven'
'Coyote Ugly'
'Predator'