What Election Day 2011 could tell us about 2012
updated 5:40 AM EST, Tue November 8, 2011
STORY HIGHLIGHTS
Collective bargaining and health care reform are on the ballot in Ohio
If Republicans win in Virginia, they'll control the Senate, House and governorship
Mississippi voters will cast ballots on a "personhood" amendment
The chief architect of Arizona's controversial immigration law faces recall
(CNN) -- Some statewide and local elections on Tuesday could serve as a barometer for next year's battle for the White House.
While overshadowed Monday by the verdict that Dr. Conrad Murray was responsible for Michael Jackson's death as well as another shoe dropping in the controversy surrounding GOP presidential candidate Herman Cain over allegations of sexual harassment, Election Day 2011 does has some compelling storylines that serve as an appetizer for next year's contests.
BATTLE FOR OHIO: Two ballot initiatives in the Buckeye State could provide clues for how the fight for the crucial battleground state may play out in next year's race for the White House. Tons of outside money is being spent on the Issue 2 ballot referendum, which focuses on the anti-collective bargaining measure that Republican Gov. John Kasich signed into law earlier this year. Democrats and organized labor are urging a "no" vote on Issue 2.
According to a recent Quinnipiac University poll, Ohio voters said they think the law should be overturned by a 52-37% margin.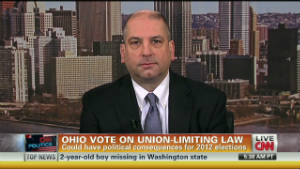 Ohio union vote could have 2012 effects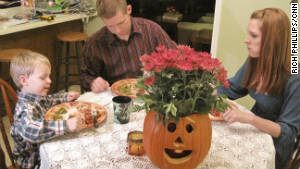 Mississippi to decide when life begins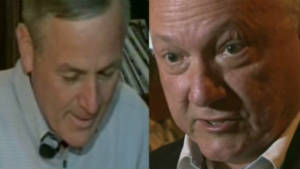 Illegal immigration key in AZ recall
The new national health care reform measure, passed last year by a Democratic Congress and signed into law by President Barack Obama, is the center of attention of Issue 3, the other major referendum on the ballot. If passed, it would exempt Ohio residents from the compulsory health care mandate, which is extremely unpopular with many Republicans. Since the health care act is a federal law, this state referendum is more a protest vote than anything else, but since it's vaguely written, its implications are unknown.
BATTLE FOR TWO MORE BATTLEGROUNDS: In Virginia, Republicans are trying to win control of the state Senate. If they succeed, they would control both the state Senate, House and the top three statewide positions (governor, lieutenant governor and attorney general) in an important swing state. In another much-watched battleground state, a special election in Iowa will decide which party controls the state Senate.
VOTER RIGHTS: Both Maine and Mississippi are the arenas for fights over voters' rights and could serve as a gauge for similar referendums next year. Question 1 in Maine would repeal the same-day registration law that was passed earlier this year. Mississippi's Initiative 27 would make photo IDs mandatory at polling places. If passed, Mississippi would become the 15th state to require photo IDs to vote. Such laws have become popular with Republicans, who say that they are trying to reduce voter fraud. Democrats argue that Republicans are trying to suppress voter turnout, especially among people who tend to vote for Democrats.
ABORTION: Mississippi voters will cast ballots on a "personhood" amendment. The controversial measure, if passed, would define "life" as beginning at the moment of conception and it would make all abortions illegal, including the termination of pregnancies caused by rape, incest or those which prove to be a grave threat to the life of the mother. While the initiative appears to have lots of support, it is opposed by some National Right to Life groups, and the Catholic Church in Mississippi says the amendment is too extreme.
GUBERNATORIAL CONTESTS: There doesn't appear to be a lot of suspense when it comes to the two states voting for governor. Democratic Gov. Steve Beshear of Kentucky appears to be cruising towards re-election. In Mississippi, Republican Lt. Gov. Phil Bryant is considered the favorite over Hattiesburg Mayor Johnny DuPree, the Democratic nominee who would be the state's first black governor. Bryant is expect to succeed Republican Gov. Haley Barbour, a fellow Republican who is term-limited.
MAYORAL CONTESTS: The major cities holding elections are: Baltimore, Charlotte, Houston, Indianapolis, Philadelphia, Phoenix and San Francisco
RECALL ELECTION: Arizona state Sen. Russell Peace is facing a recall election. Since he's the chief architect of Arizona's controversial immigration law, this contest is getting a lot of attention nationwide.

Part of complete coverage on

Get all the latest news at CNN's Election Center. There are race updates, a delegate counter and much more.

A black man is returning to the White House. Four years ago, it was a first, the breaking of a racial barrier. Tuesday night, it was history redux. And more.

The 2012 presidential election shattered spending records, further polarized a divided country and launched a thousand hashtags.
updated 1:41 PM EST, Thu November 8, 2012

Democratic and Republican congressional leaders continue to sharply disagree over the key issue of whether top tax rates should be raised to help resolve the looming crisis.
updated 2:24 PM EST, Wed November 7, 2012

In a historic turnaround, the ballot box is showing America's shifting attitudes about same-sex marriage.

Even though voters indicated to pollsters that their financial situation is the same or worse than it was four years ago, they put their trust in the president.
updated 4:19 AM EST, Thu November 8, 2012

The president faces a long and familiar set of challenges after riding a wave of support from moderates, women and minorities to victory.
updated 9:27 AM EST, Wed November 7, 2012

Republicans kept a lock on the U.S. House of Representatives, a crucial victory after the party failed to wrest away the presidency from Barack Obama and the Senate from the Democrats.
updated 7:34 PM EST, Wed November 7, 2012

Democrats will retain their control of the Senate after winning several closely contested races on Tuesday.