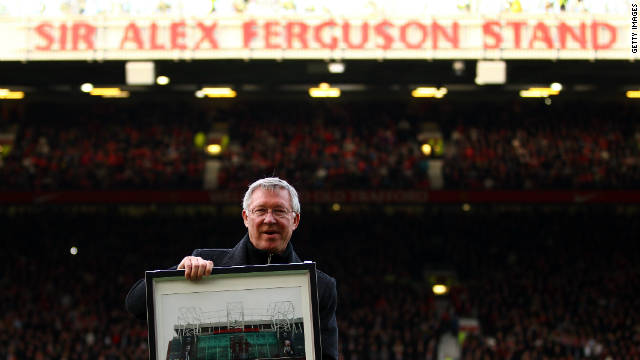 Manchester United renamed Old Trafford's North Stand in honor of legendary manager Alex Ferguson ahead of Saturday's match with Sunderland and his 25th anniversary at the club.
The Scot, who turns 70 in December, walked out as both teams formed a guard of honor before the match.
United fans commemorated Ferguson's achievements, which include 12 English titles and two European Champions League crowns since his arrival on November 6, 1986.
Ferguson with Sunderland manager Steve Bruce, who was his United captain and a key player for nine years at Old Trafford.
United won the Premier League match 1-0 thanks to an own-goal from Wes Brown, who was making his first return to his former club following his July move to Sunderland.
STORY HIGHLIGHTS
Manchester United manager honored by renaming of club's main stand
Alex Ferguson celebrates 25 years at Old Trafford with win over Sunderland
United five points behind league leaders Manchester City, who beat QPR 3-2
Newcastle in third place after 2-1 win at home to struggling Blackburn
(CNN) -- Alex Ferguson has endured many highs and lows in his 25 years at Manchester United, so perhaps it was fitting that Saturday's much-anticipated anniversary celebration featured some of both extremes.
The Scot is the most successful manager in British football, and his status as the longest-serving one in United's history was cemented when the English Premier League champions renamed the biggest stand at Old Trafford in his honor.
It is the first time in the ground's 101 years that a section has been named after an individual. Club officials have also commissioned an award-winning Scottish sculptor, Philip Jackson, to build a statue of the 69-year-old to be erected outside the stand's entrance next year.
"I was really emotional. I couldn't believe it. I didn't expect that. I have to thank the club, it's fantastic of them to do that," Ferguson told reporters after the nervy 1-0 victory over Sunderland.
United he stands: The real Alex Ferguson
The match was won thanks to an own-goal by former United defender Wes Brown just before halftime, and kept United in second place in the table -- five points behind local rivals Manchester City, who battled to a 3-2 win at Queens Park Rangers in the late kickoff.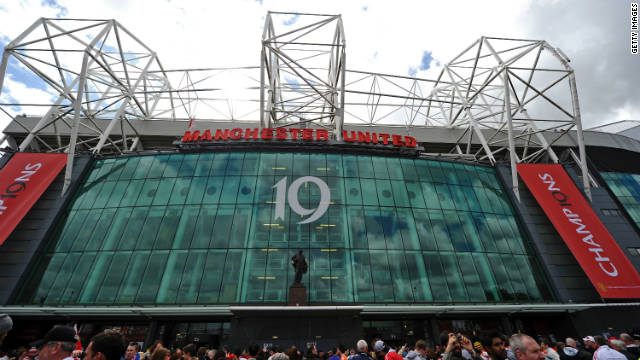 If there's one quote to associate with Ferguson's reign, it's surely that which he offered up in 2002. "My greatest challenge was knocking Liverpool right off their f**king perch...and you can print that," he said. When United claimed their 19th title last season, eclipsing Liverpool's record, he achieved his aim.
It was the conversation that made everything possible. In the winter of 1992 United had a call from Leeds manager Howard Wilkinson, enquiring about the availability of Denis Irwin. Ferguson said no, but on a whim took the opportunity to ask whether Leeds striker Eric Cantona was for sale. What followed was a $1.9 million steal that opened the door to two decades of success.
After his sending off against Argentina, David Beckham returned to England from the 1998 World Cup as the most vilified man in the country. Thanks to Ferguson's guidance and support, he proceeded to produce arguably the best season of his career, and begin his redemption to natural treasure.
The 1995-96 Premier League season will be remembered for the moment Newcastle manager Kevin Keegan lost it on live television. Ferguson had claimed teams were trying harder to beat his team than Keegan's Newcastle, and the psychological battle was over before it began. "I'd love it if we beat them," a furious Keegan yelped. They didn't.
The 1990 FA Cup Final was Ferguson's big chance to win a first major trophy, four years into his reign and with the vultures circling. After United drew 3-3 with Crystal Palace, he made one of the most difficult decisions of his career ahead of the replay -- dropping his friend Jim Leighton in goal and opting for Les Sealey instead.
It's hard to imagine a United team without Ryan Giggs. But that's exactly what would have happened had Ferguson not devoted so many hours to convincing the teenager, and his parents, he should play for the red half of Manchester, not the blue.
What do you do when the fans are up in arms over one of their favorite players leaving? Replace him with a better one, and give him the same shirt number.
One of Ferguson's first tasks at United was to address the drinking culture in the first-team squad. The story goes that he had scouts all around Manchester, who would phone in sightings of players in bars and pubs, and keep Ferguson abreast of their whereabouts.
On the opening day of the 1995-96 season, Ferguson fielded a team against Aston Villa that included the fresh faces of Nicky Butt, Paul Scholes and Gary and Phil Neville, with David Beckham coming off the bench. United lost 3-1, prompting BBC TV pundit Alan Hansen to say Ferguson would never win anything win kids. They went on to win the double.
It was one thing to bring the good times back to United; quite another to extend them. Having won his first title in 1992-93, what Ferguson needed was a ferocious warrior to drive his team from midfield and set the standard for everybody around him. Enter Roy Keane, who would do just that for over a decade of warfare at the hub of his team.
Jose Mourinho represented a new adversary for Ferguson when he arrived in England to manage Chelsea. 'The Special One' prevailed, winning two straight Premier League titles, but the relationship between the two men has always been one of mutual respect and admiration. There lives on a tradition of each trying to out-do the other by producing a better wine to share after games between their respective teams.
Ferguson is a very proud, and very stubborn, man. When British broadcaster, the BBC, aired a documentary making allegations about his son Jason in 2004, he boycotted interviews with the network for seven long years. In August this year, and on his terms, Ferguson finally agreed to talk to them again.
After hearing time and again about Arsene Wenger's soaring intellect, Ferguson decided it was time to debunk the myth. "They say he's an intelligent man, right? Speaks five languages. I've got a 15-year-old boy from the Ivory Coast who speaks five languages," he said of the Arsenal manager in 2003.
Ferguson paid a club record $16.7 million for defender Jaap Stam, but after being exposed by Arsenal's Nicolas Anelka in the 1997 Charity Shield, the traditional curtain raiser to the English top flight season, the Dutchman was widely labelled a lumbering waste of space. Three league titles and a Treble later, Ferguson had them eating their words.
With United 3-0 down at halftime against Southampton in 1996, Ferguson ordered his players to change shirts for the second half. He claimed their grey shirts had made it difficult for players to pick each other out against the crowds. Unsurprisingly, United never wore that kit again.
When Ferguson was tipped off about a party at Lee Sharpe's house in the early 90s, he raced round to be greeted by the sight of a teenage Ryan Giggs holding a bottle of beer. Suffice to say, the party was over.
Ruud van Nistelrooy was supposed to join United from PSV Eindhoven in the summer of 2000, but a serious knee injury thwarted the deal at the last minute. Ferguson was so convinced he waited nearly a year, keeping in regular contact with the Dutchman, before signing him the following spring. He was repaid with 150 goals in five prolific seasons at Old Trafford.
When Steve Bruce headed home a dramatic winner for United against Sheffield Wednesday, at the culmination of the 1992-93 season, Ferguson and his assistant Brian Kidd leaped onto the Old Trafford turf in hysterical celebration. A first title in 26 years was all but assured and nine years of hard work had come to fruition.
The 2002-03 season saw Manchester United chase down Arsenal's lead and win yet another title. As the race reached a climax, Ferguson gave us a quote that subsequently took its place in the footballing dictionary. "It's getting tickly now -- squeaky-bum time, I call it," he said.
Ferguson has been in charge of over 2,000 games as United manager, and it's a rare sight to see him in the dugout without a piece of chewing gum in his mouth. Somewhere in Manchester there's a newsagent who lives off the great man's habit.
In February 2003, Ferguson reacted to an FA Cup loss to Arsenal by kicking a boot in the direction of his most famous player. The boot hit Beckham on the forehead and prompted a media furore, but Ferguson refused to apologize. "If I'd tried it 100 times or a million times, it wouldn't happen again. If it did, I would carry on playing," he said.
The 2001-02 season was to be Ferguson's last at United, and he announced the news before the start of the campaign. He thought it would inspire his team to reach the Champions League final at Hampden Park, a fitting end to his reign, but ultimately it proved an unsettling disaster for everybody concerned. On the advice of his wife, and the late Bobby Robson, he changed his mind the following February.
Ferguson's pre-match teamtalk in the build-up their 2008 Champions League final against Chelsea in Moscow is the stuff of legend. Wayne Rooney said it "made the hairs on the back of your neck stand up." United went on to beat Chelsea in a dramatic penalty shoot-out, and Ferguson once again had his hands on the Holy Grail.
United lost Champions League finals in 2009 and 2011 to Pep Guardiola's Barcelona, and both times Ferguson proved a humble loser. "No one has given us a hiding like that," he said after going down 3-1 at Wembley in May. "It's a great moment for them. They deserve it because they play the right way and enjoy their football."
In 1999 Ferguson took his team to the Champions League final in Barcelona, needing victory against Bayern Munich to complete the most remarkable season in British football history. With United 1-0 down and the clock at 90 minutes, substitutes Teddy Sheringham and Ole Gunnar Solskjaer delivered the most dramatic victory imaginable. "Football. Bloody Hell," Ferguson said afterwards. He was made a Knight -- an order in the British honours system that affords the recipient the title of 'Sir' -- by the Queen, a few months later.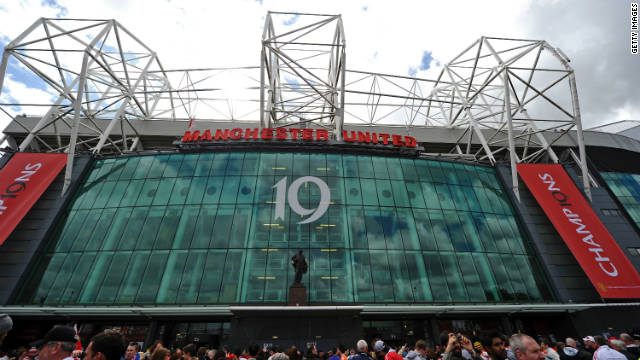 Ferguson's top 25 Manchester United moments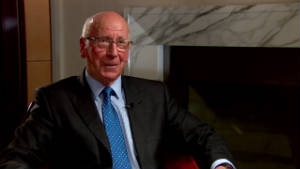 Bobby Charlton on 25 years of Ferguson
Sunderland, managed by Steve Bruce -- whose headed goal against Sheffield Wednesday gave Ferguson his first of 12 English titles in the inaugural 1992-93 Premier League season -- almost spoiled the celebrations.
Referee Lee Mason awarded the visitors a penalty in the 68th minute when his linesman Jake Collin flagged that young United defender Phil Jones had handled the ball, but then overturned the decision.
"That last 15 minutes was torture," Ferguson said. "I'd have been quite happy if the whistle had gone at halftime when we were 1-0 up. Sunderland threw everything at us and played very well in that last 15 minutes."
Ferguson said the week's hype may have got to his team.
"It was an anxious day for the players. I think they showed that. They wanted to do well for me," he said.
"These occasions can be a wee bit like that. I remember the 50th anniversary of the Munich air disaster and we lost 2-0 to Manchester City. That got to the players that day. Maybe it happened a little bit today."
It was an anxious day for the players. I think they showed that. They wanted to do well for me
Alex Ferguson
Bruce was at United for nine years as a player, but has yet to beat his former boss in 17 attempts as a manager.
"He welcomed me in with a great glass of wine and said, 'Unlucky again'. I'll be his age before I get a result here," Bruce said.
"But I have to say the tribute, naming the stand after him -- I've never known anything at Manchester United kept a secret. It's quite remarkable and fitting, too.
"I said to him maybe he's taken his finger off the pulse because he didn't know what was going on!"
However, Manchester City showed that United have a real challenge to add to Ferguson's long list of trophies after coming from behind the first time in the league this season to beat a QPR side that has already defeated Chelsea.
Roberto Mancini's men crushed Villarreal 3-0 in the Champions League in midweek, but went behind in the 28th minute when striker Jay Bothroyd headed in Joey Barton's free-kick.
Edin Dzeko leveled two minutes before halftime with his 10th league goal this season, with the Bosnia striker cutting inside defender Anton Ferdinand -- who is at the center of the racism allegations aimed at Chelsea's England captain John Terry -- and slotted in a low shot.
City's playmaker David Silva showed his customary sublime control to take Dzeko's low cross and fire in at the near post seven minutes after the break, but QPR leveled on 69 when Bothroyd's header hit teammate Heidar Helguson in the back and deflected past wrongfooted goalkeeper Joe Hart.
Yaya Toure followed up Wednesday's goal in Spain with another crucial strike as the Ivory Coast midfielder leaped high to head the 74th-minute winner, leaving promoted QPR in 12th place.
Newcastle's impressive run continued with a 2-1 win at home to Everton that kept Alan Pardew's team three points clear of fourth-placed Chelsea.
An own-goal from Everton defender Johnny Heitinga and a superb long-range shot from fullback Ryan Taylor put Newcastle 2-0 ahead by the half hour, while Jack Rodwell reduced the deficit in time added on at the end of the first period.
Chelsea, still awaiting the outcome of the investigation into Terry's alleged comments by both police and the English FA, bounced back from two successive league defeats with a 1-0 victory at struggling Blackburn.
Midfielder Frank Lampard scored his sixth goal this campaign to leave the home side in the bottom three, with defender Terry starting after being rested for the 1-1 European draw with Belgian side Genk on Tuesday.
Liverpool missed the chance to move above fifth-placed Tottenham -- who travel to Fulham on Sunday -- after being held 0-0 by mid-table Swansea.
Striker Andy Carroll hit the bar as Kenny Dalglish's team dropped points at home for the third match in a row, while the promoted Welsh side moved to 10th place.
Arsenal joined Spurs and Liverpool on 19 points after a 3-0 win at home to West Brom, again inspired by Robin van Persie.
The Dutchman responded to being named as a substitute in the midweek 0-0 draw with Marseille by scoring his league-leading 11th goal this season from close range in the 22nd minute.
He then set up defender Thomas Vermaelen six minutes before halftime, and was involved in Mikel Arteta's 74th-minute strike as Arsene Wenger's team notched a fifth successive league victory.
Aston Villa moved up to eighth on 15 points with a 3-2 victory at home to Norwich, which lifted Alex McLeish's team above the promoted visitors.
Villa came from behind as Darren Bent canceled out Anthony Pilkington's 25th-minute opener, and Gabriel Agbonlahor pounced on a defensive error before setting up his strike partner's second goal on 62 -- which made Steve Morison's late effort a consolation for ninth-placed City.