'Starchitect' David Adjaye on his favorite buildings
updated 1:11 PM EDT, Fri November 4, 2011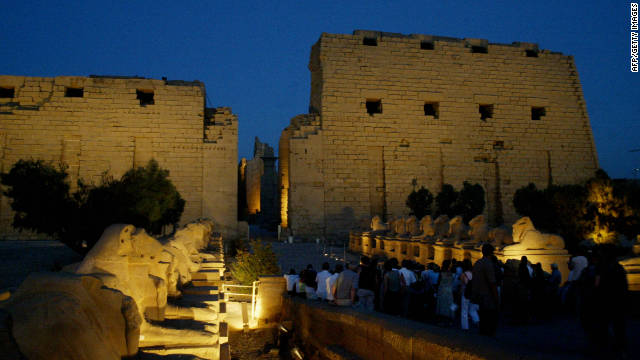 The Karnak temple in Luxor, Egypt is one of the world's oldest surviving shrines. According to Adjaye, it is a "primal structure" that embodies the very essence of Africa.
The Buganda Shrine in Uganda was once the biggest thatch structure of the Buganda civilization. It was burnt down in 2010 but Adjaye says "its sheer power and meaning," had a profound effect on him.
Another inspirational structure on the African continent, the great mosque of Djenne in Mali is "one big piece of architecture," says Adjaye.
The quaint and peaceful tea houses of Kyoto made a big impression on Adjaye when he visited Japan. "I think Japan made me realise how critical Africa was," he says. "It's ironic, i had to go to Japan to really aesthetically become more sensitive to what my culture had."
Visitors queue outside the Neue Nationalgalerie in Berlin, Germany. Adjaye cites the structure as a "masterpiece" and "a temple of modernity."
Karnak Temple, Egypt
The Buganda Shrine
Great mosque of Djenne, Mali
Kyoto Tea Houses
Neue Nationalgalerie, Berlin
Torres de Satelite sculpture, Mexico City
STORY HIGHLIGHTS
David Adjaye is an architect born in Tanzania
Although he lives and works in London, he says Africa remains a source of inspiration
He has recently designed buildings in the UK, Italy and the United States
(CNN) -- David Adjaye is one of the world's most highly acclaimed and sought after architects.
Born in Tanzania to Ghanaian parents, Africa has played an important role in his life and continues to provide inspiration for his projects around the globe -- although he now lives and bases his practice in London.
"Tanzania is an incredible melting pot of cultures with Sikhs, Indians, Muslims," Adjaye says.
"Living in East Africa and sort of mixing with all these groups allowed me to sample many different spatial and cultural conditions very early on," he adds.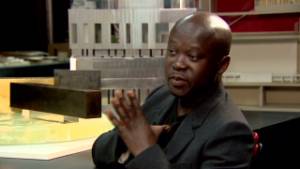 David Adjaye's favorite buildings
Some of Adjaye's most notable structures include the Nobel Peace Center in Norway, the Museum of Contemporary Art in Denver, and the National Museum of African American History and Culture in Washington D.C.
But while his African roots remain a fond memory, he says that there is now much more that inspires him -- not least his love of architecture around the world.
In the gallery above Adjaye selects six of his favorite buildings, explaining why they hold a special appeal to him and what makes them so architecturally unique.