Tech Check: All Fails, All the time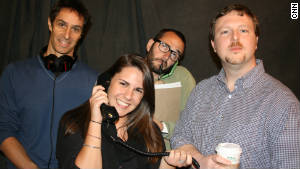 STORY HIGHLIGHTS
Tech Check: The grumpier-than-usual all-Fail edition
Apple's iPhone 4S is doing well, but battery drain has some users down
Google released, the yanked, a Gmail app that was super-buggy
Parents teaching their kids to lie -- to get on Facebook
(CNN) -- This week on the Tech Check podcast, Doug Gross, John Sutter and Stephanie Goldberg are surlier than usual, expanding the Tech Fail of the Week feature to engulf not one ... not two ... but three tech industry stalwarts.
We lead off with Apple and the battery-drain issue on the iPhone 4S (which, it turns out, is because of Apple's new operating system. To be sure, the phone is doing gangbuster sales and has plenty of fans. But this is the second time in a row early adopters of a new iPhone have had a glitch to deal with. "Death grip," anyone?
Google doesn't get off the hook either. We look at the long-awaited Gmail app for Apple mobile devices. It finally arrived, for an hour or so, then was promptly pulled because of a ton of bugs that made it essentially impossible to use. That was on the heels of Google changes, including a Reader redesign, that fell flat with some users.
Stephanie provides the week;s lone bright spot with our Reader Comments of the Week, reacting to news that your next phone might be as flexible as Laffy Taffy.
And holding down the traditional Tech Fail of the Week spot are the surprisingly large number of parents who, according to a recent survey, are helping their pre-teen kids lie to get onto Facebook.
To listen to Tech Check, click on the audio box to the left. To subscribe, you can add Tech Check to your RSS feed here. You can also listen, or subscribe, on iTunes. Roku owners can also find us in the CNN widget on the NewsCaster channel.