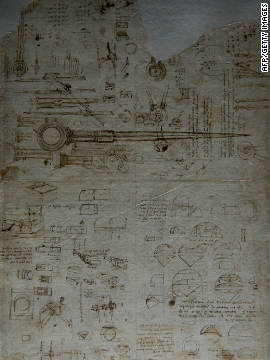 The wide range of Leonardo da Vinci's ideas for inventions is shown through many surviving journals and sketchbooks, or "codices." Experts see these codices as direct links into da Vinci's mind. Rather than approaching them as linear documents, they are seen as a collection of thoughts and ideas. This is a page from the "Atlantic Codex," which is part of the Italian master's largest collection of drawings and writings.
Da Vinci was a man of science as well as an artist and spent many hours theorizing about air travel. He believed that man was destined to fly and contemplated various methods of human-powered flight in his sketchbooks. Here we see a pen-and-ink sketch of a flying machine designed by da Vinci.
Da Vinci grew interested in human air travel in his 30s and devoted many hours to developing his designs for flying machines. Using nature as a starting point, he studied how birds, bats and insects fly as one way of understanding aerodynamics. The sketch here is of the wings of a glider, which appears to be based on da Vinci's study of bat wings.
Da Vinci also drew up a blueprint for a machine called an ornithopter, where the pilot would flap the large wings attached, in order to fly just like a bird. Scientists today have confirmed that the ornithopter would not work. In his lifetime, da Vinci sketched designs for flying machines including gliders and helicopters and flight safety devices like parachutes, as well as submarines and tanks. However, it is unknown whether he ever built any of his designs.
One of Leonardo da Vinci's most famous designs is his idea for a "helical air screw" -- a helicopter-type flying machine, recognized as the ancestor of the modern helicopter. Next to his design is da Vinci's version of shorthand. Da Vinci used mirror writing when his notes were only intended for himself.
Da Vinci's foresight and inventions continue to inspire many to this day. Some enthusiasts have gone on to make his designs a reality. Seen here in Melbourne 2006, a young woman inspects a modern construction of the helical air screw from da Vinci's sketchbooks. This modern interpretation was crafted from materials that would have been available in 15th-century Italy.
In 2006, the Galerie Mennonitenkirche in Germany showed an exhibition of "The Machines of Leonardo da Vinci." Here, an employee readies the contemporary version of da Vinci's designs for an armored tank.
vinci helicopter melbourne