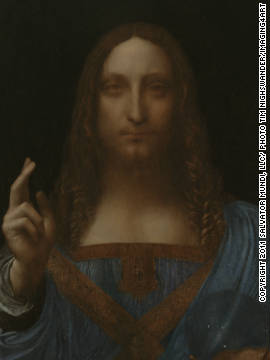 A little earlier this year the art world made an extremely rare discovery -- a painting by Leonardo da Vinci. The 500-year-old painting depicts the head and shoulders of Christ and is in sparkling condition after cleaning and restoration.
This early work attributed to da Vinci currently hangs Musei Vaticani, Vatican City. Scholars say that the unfinished painting's powerful depiction of St Jerome's suffering is an early indicator of the masterpieces da Vinci would go on to produce.
Da Vinci's world-renowned late 15th century drawing is considered a fine example of the Renaissance period's blend of art and science. It is based on the correlation of ideal human proportions and geometry described by ancient Roman architect Vitruvius.
The woman in this painting is thought to be Cecilia Gallerani, a famously beautiful mistress of da Vinci's patron Ludovico Sforza. One of only four portraits attributed to da Vinci, this painting shows the artist's great skill in depicting the human form (note the detailed depiction of Gallerani's hand).
This is the title for two paintings with very similar subject matter and composition, one housed in the Louvre Museum in Paris, the other in The National Gallery in London (this version). The Louvre painting is thought to be the earlier. 'The Virgin of the Rocks' was commissioned as part of an elaborate sculpted altar for the oratory in the church of San Francesco in Milan in 1480. The painting was sent to France and da Vinci painted a replacement for the church.
Da Vinci's world-famous portrait of a woman with an enigmatic smile is thought to be of Lisa Gherardini, wife of a Florentine cloth merchant named Francesco del Giocondo, although even this fact about the mysterious painting remains unclear. Mona Lisa's famous smile is symbolic, according to the Louvre website, which says "It is a visual representation of the idea of happiness suggested by the word "gioconda" in Italian."
Da Vinci's fresco in the church of Santa Maria delle Grazie in Milan was commissioned by his patron Ludovico Sforza, the Duke of Milan. The artist's genius is seen "especially in the use of light and strong perspective," according to UNESCO. Repeated conservation programmes have been carried out, the most recent over the past 20 years.
'Christ as Salvator Mundi,' (c. 1499 onwards)
'St Jerome,' (c. 1488-90)
'Vitruvian Man,' (1490)
'The Lady with an Ermine,' (1489-90)
'The Virgin of the Rocks,' (c. 1491-1508)
'Mona Lisa' or 'La Gioconda'(1503-1506)
'The Last Supper,' (1495-1497)