STORY HIGHLIGHTS
SavWatt CEO estimates that the company could hire as many as 400 people
For now, about 20 people work in the company's assembly area when it's going full-tilt
The company hopes to get contracts for streetlight and other outdoor retrofitting work
CEO wants federal, state and local governments to commit to buying from U.S. manufacturers
Baltimore (CNN) -- A handful of people work with screwdrivers and other basic tools on the assembly line of SavWatt. Off to one side, technicians go over a whirligig wind catcher. The office-like glow comes not from fluorescent lights, but LED tubes that fit in a standard fixture.
President Barack Obama used to talk at length about the "green energy jobs of the future." But he never visited this one-floor assembly line and sales office, tucked inside an old, repurposed Baltimore industrial building.
SavWatt did not get a half-billion dollars in loan guarantees from Uncle Sam, the way Solyndra did. But that solar panel company's bankruptcy, after Obama toured its California plant, is now the subject of a broad House investigation. And the results could stall government efforts to push alternative energy industries in the United States.
"Mostly, what SavWatt does is lights," CEO Michael Haug says, giving CNN a tour. "That's a lower-hanging fruit than solar. Solar, the return on investment takes longer because of the cost margins."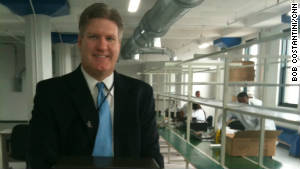 SavWatt CEO Michael Haug at his small company's assembly line. "Mostly, what SavWatt does is lights," he said.
And yet Haug, whose company is trying to get a foothold, cringes at the Solyndra controversy, since "anything in the energy industry that takes a hit like that is damaging to all of us, because we're like the brothers and sisters of that."
The office cubicles here are lit in a whimsical way that shows off the product. LED light cubes jut out of the top of regular floor lamps.
What the company really hopes to gain is access to contracts for streetlight and other outdoor retrofitting work. The electricity savings could be 50% to 80%, according to Haug. And even further down the green road, the wind catcher device is designed to top a light pole that would also have a solar panel. A prototype of that system is on display in front of the Transportation Department building in Washington.
SavWatt could hire as many as 400 people to put together its mostly American-made lights (the LEDs are made in Asia), if governments would commit to buying in the U.S., Haug says.
But it seems, especially in light of Solyndra, that the political climate in Washington has turned against helping the private sector go green. It's not a significant part of the president's stalled jobs bill.
In the U.S., "we very frequently choose to say, 'Oh, just let the market decide," says David Foster of the BlueGreen Alliance, which promotes American jobs in the alternative energy field.
Republicans in the House seem unlikely to go along with anything that smacks of aid to U.S. green manufacturers, not only because of the harsh political climate, but also because Uncle Sam is on the hook for $535 million in loan guarantees for Solyndra.
The Energy and Commerce Committee is issuing subpoenas to get to the bottom of the Solyndra fiasco. The White House is engaged in its own review of the loan guarantee process, amid word that another Washington-backed venture, Beacon Power, has gone under.
No, there will be no loan guarantees from Uncle Sam for his company. And frankly, Haug wouldn't want any. What he would like, though, is for federal, state and local governments to commit to buying from American manufacturers.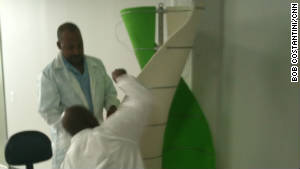 SavWatt employees check a pole-topping wind catcher that would generate power for a streetlight.
Haug wants major overhauls, such as retrofitting municipal streetlights, to come with a stipulation "that these projects should create jobs." Here, he chuckles as if imagining the scenario and the dollars it would bring to his company.
"That would help us out tremendously because most of these other competitors, they're not looking to create jobs in the United States. They're just looking to bring [import] product."
The competitors include GE and Sylvania. They have track records backed by billions of dollars in capital.
In a room off the assembly line here, Skip Herbert and a crew are putting together what amounts to a giant toaster. "We're going to abuse these light bulbs," Herbert exclaims, with a bit of mischievous glee. "We're going to heat 'em to 140 degrees."
Unlike GE and Sylvania, little SavWatt has no track record. Its quality control efforts are being built from scratch. The idea is to simulate years of wear on the streetlights that SavWatt wants to sell.
For now, about 20 people work in the company's assembly area when it's going full-tilt. Most are locals, hired through a nonprofit employment agency. And the bulk of the orders are for lights to go up on poles in public places, like tennis courts and jogging paths.