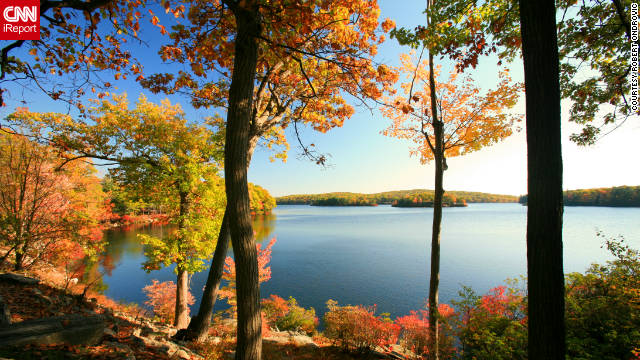 Fall has put on a marvelous display of color this year, with beautiful flashes of red, gold, orange and yellow visible in some of the most scenic corners of the continent. iReporters share their photos of fall foliage all across North America. Robert Ondrovic took this photo during a drive between Harriman State Park and Bear Mountain State Park in New York.
John McGraw shared this photo of the leaves turning in Fayette State Park in Michigan. "Every color you can imagine and an endless amount of trees, rivers, wildlife and of course all of the lakes," he said of his trip to the park.
Robert Ondrovic took this photo of Croton Falls Dam in New York. "This is a beautiful location for a hike along the dam and reservoir," he said.
Neal Piper took a drive on a stretch of the Blue Ridge Parkway in Virginia and shared this high dynamic range composite he made of his experience. "I have always wanted to drive on the Blue Ridge Parkway during the fall to see the spectacular array of colors in this mountainous region," he said.
Angus Praught snapped a shot of fall descending on Vancouver, British Columbia: "Fall foliage near Sunset Beach in downtown Vancouver's West End, as seen from the Burrard Street Bridge while out walking during an early evening in October. Stanley Park and the North Shore Mountains can be seen in the far background."
"Rolling hills of trees with leaves in different shades of reds, oranges and yellows are seen from one of the many lookouts at the Great Smoky Mountains National Park," Wei Ping Teoh said of his photo.
Shelia Joyce Carrasco captured "fall splendor" in Hampshire, Illinois. "I was drawn to the colors of not only the foliage still on the trees but the carpet of fallen leaves and the contrasting colors of the trunks and the shadows cast. It was taken in the sweet light of morning!"
Ginger Gill Mullins took a photo of this hot air balloon during her own balloon trip over Charlottesville, Virginia. "It was so awe-inspiring yet peaceful to be in an open basket drifting hundreds of feet off the ground."
Sobhana Venkatesan snapped a shot of this swan in Bowring Park in Newfoundland. "Fall in Canada is enchantingly beautiful. The maple forests are a wonderful sight to behold."
Alanna St. Laurent took this photo of birches on Council Lake in Michigan. "This composition captured my eye because of the starkness of the birch trees in front of the fall color behind them."
Venkata Chepuri Krishna Teja shared this detail shot from Hillsboro, Oregon. "I just loved the fall colors in Oregon," he said.
Robert Ondrovic took this photo near Bear Mountain State Park in New York. "This is a beautiful location for a country drive, and I go back often for its natural beauty and serenity."
Alanna St. Laurent shared this serene photo taken on Pete's Lake in Munising, Michigan. "One of several inland lakes found in the Munising area, I captured this moment at sunrise with the fall color and white dock," she said.
Leah Dunn captured this beautiful contrast at the entrance of Red Butte Garden in Utah. "Autumn in Utah is my favorite time of year, and this is the first autumn in two years that I've been back home to enjoy the changing leaves in our wonderful mountains."
Mike Dougharty shared this foggy morning photo on the Talimena Scenic Drive in western Arkansas. "Amazing colors during the fall and well worth a visit," he said.
"Standing under the tree, I felt I was under a giant umbrella of golden yellow," Carol Locey said of her photo, taken in Milford, Ohio. "The sun was hitting the leaves and making the tree seem it was lit by hundreds of yellow bulbs shaped like leaves."
Thomas Cox shared his photo of fall in Red River Gorge, Kentucky. "It is one of my favorite places in Kentucky and is a beautiful and unexpected landscape in the rolling hills. This time of year is especially beautiful."
Travel Snapshots: Fall foliage
Travel Snapshots: Fall foliage
fall foliage 11
Travel Snapshots: Fall foliage
Travel Snapshots: Fall foliage
Travel Snapshots: Fall foliage
Travel Snapshots: Fall foliage
Travel Snapshots: Fall foliage
Travel Snapshots: Fall foliage
Travel Snapshots: Fall foliage
Travel Snapshots: Fall foliage
Travel Snapshots: Fall foliage
Travel Snapshots: Fall foliage
Travel Snapshots: Fall foliage
Travel Snapshots: Fall foliage
Travel Snapshots: Fall foliage
Travel Snapshots: Fall foliage