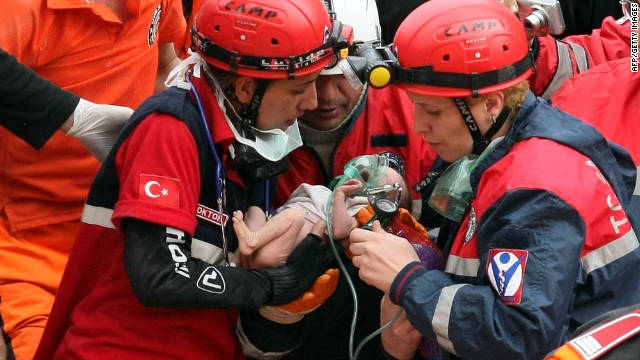 Rescue workers carry 2-week-old baby Azra Karaduman. The baby was pulled from debris on Tuesday, October 25, in Ercis, Turkey, two days after a deadly earthquake devastated parts of eastern Turkey.
Residents of Ercis gather around a fire to keep warm as they wait in the streets on Tuesday for news of survivors.
Residents of Ercis collect tents from a Turkish Red Crescent truck on Monday, October 24.
Rescue teams in Van, Turkey, search for survivors on Monday. Sunday's 7.2-magnitude quake struck at 1:41 p.m. local time about 12 miles from Van, the U.S. Geological Survey said.
Turkish rescuers try to find survivors in the rubble of a collapsed building in Van on Monday.
Ercis residents collect loaves of bread provided by relief agencies on Monday.
Turkish rescue workers try to recover people from a collapsed building in Ercis on Monday.
A man walks through the rubble in Van on Monday.
Residents of Ercis, Turkey, gather around fires in the aftermath of a the quake that rocked the city on Sunday.
Ercis residents gather around a fire in the street and survey the destruction of the surrounding city on Sunday.
Rescuers assist a man trapped beneath a collapsed building minutes before his death on Sunday.
Citizens and rescue workers sift through the rubble looking for survivors in Ercis, Turkey, on Sunday.
Two men stand in the rubble of a collapsed building in the aftermath of the quake on Sunday.
A Turkish man searches for survivors in the rubble on Sunday.
Rescue efforts continue well into the night on Sunday.
Men scour the rubble on Sunday looking for survivors.
Deadly earthquake strikes Turkey
Turkey fire quake
Deadly earthquake strikes Turkey
Deadly earthquake strikes Turkey
Deadly earthquake strikes Turkey
Deadly earthquake strikes Turkey
Deadly earthquake strikes Turkey
Deadly earthquake strikes Turkey
Deadly earthquake strikes Turkey
Deadly earthquake strikes Turkey
Deadly earthquake strikes Turkey
Deadly earthquake strikes Turkey
Deadly earthquake strikes Turkey
Deadly earthquake strikes Turkey
Deadly earthquake strikes Turkey
Deadly earthquake strikes Turkey