Occupy Wall Street protesters support injured war veteran
updated 8:13 PM EDT, Thu October 27, 2011
STORY HIGHLIGHTS
NEW: Nashville authorities say Occupy Nashville participants will be required to have permits
Witnesses say a tear gas canister fractured veteran's skull
The injured vet becomes another issue for protesters to rally around
Scott Olsen is in fair condition in an intensive care unit
Are you there? Share your photos and videos.
(CNN) -- More Occupy Wall Street protests were scheduled in New York on Thursday, a day after demonstrators marched to support an Iraq war veteran who was hurt in California.
Hundreds packed the streets near Manhattan's Union Square on Wednesday in a march in support of veteran Scott Olsen. At least 10 people were arrested in clashes with officers, a New York police spokesman said.
Olsen suffered a skull fracture Tuesday night after allegedly being struck by a tear gas canister in Oakland, California, according to witnesses. He was in fair condition Thursday in the intensive care unit at Highland Hospital, hospital spokesman Curt Olsen said.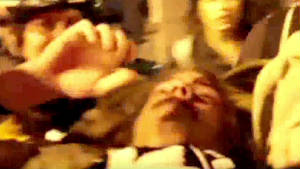 Veteran injured at Oakland protest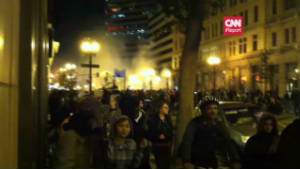 Tear gas fired at Occupy Oakland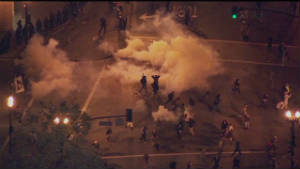 Occupy protests turn violent in Oakland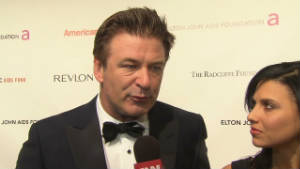 Alec Baldwin supports Occupy Wall Street
The former Marine has become another rallying cry for the Occupy Wall Street protests spreading throughout the country.
Demonstrators have typically railed against what they describe as corporate greed, arrogance and power, as well as their assertion that the nation's wealthiest 1% hold inordinate sway over the remaining 99% of the population.
The movement seems to be growing despite a recent crackdown in several cities.
Authorities made a series of arrests at protests in Oakland and Atlanta on Tuesday and Wednesday.
Police said they fired tear gas on protesters in Oakland after the crowd threw paint and other objects at officers. In Atlanta, police arrested dozens of demonstrators at a downtown park after they failed to leave the facility as ordered.
In Nashville, Tennessee, authorities said Thursday that Occupy Nashville participants will be required to have permits, according to a statement from the state's Department of General Services.
CNN's Susan Candiotti and Joe Sutton contributed to this report.

Part of complete coverage on

A collaborative effort of CNN and iReport contributors who are documenting the protests.

Who are the people protesting, and what do they want? Demonstrators in 10 cities share their reasons for joining the movement.
updated 10:22 AM EDT, Wed April 18, 2012

We know they're there, but what do they want? CNN's Christine Romans explains the Occupy movement.
updated 10:58 PM EST, Thu November 17, 2011

A show of strength in the movement's original home was echoed nationwide on a "mass day of action."
updated 5:33 AM EST, Wed November 16, 2011

Occupy protesters were allowed to return to Zuccotti Park, but without their tents and generators.

Whether the protesters have an around-the-clock encampment in New York doesn't change much of the criticism.
updated 7:30 PM EST, Mon November 14, 2011

The author writes that protests are modeling themselves after networked, personal technology with many leaders.

Both movements identify with the values of just under a third of the country, according to a new survey.