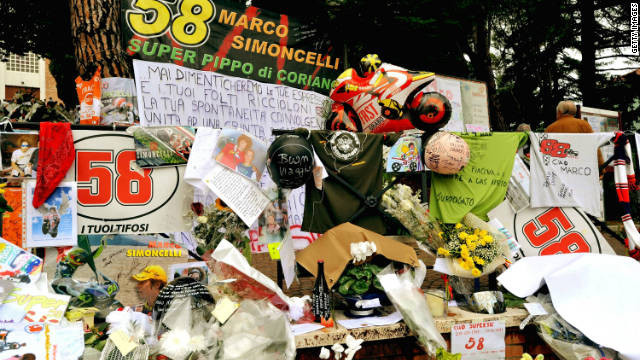 Mourners lay flowers in Marco Simoncelli's hometown of Coriano as a sign of their respect for the former Honda rider.
Motorsport fans gather outside the theater in the Italian town. The 24-year-old MotoGP rider died following a crash in Malaysia on Sunday.
People queue to see Simoncelli's coffin and pay their final respects to their late hero.
Simoncelli was loved for his colorful quotes, and his down-to-earth style. "Once I went to train on a motocross bike track. At the entrance the attendant recognized me, smiled, and started to ask questions: 'Are you Simoncelli? The famous rider? The one from MotoGP?' I answered so proud: 'Yep, that's me.' And him: 'Thirty euros!'"
"I decided to take my license for bikes, because I was tired of going around only with 125cc bikes. I was so happy with my new driving license. After two days it was already revoked..."
"There is this legend about all drivers, I mean, having affairs with umbrella girls. But I never got one ... Because they arrive in the morning when, oh Mary, when you are so tense for the race, and you don't think so much about chicks, you are focused on the race. Then when the race is over and maybe it went good and, oh Mary, and you are high and maybe you want to party ... well they have already left, and you stay there by yourself."
"I feel like a pig at Christmas."
"Okay, sometimes I cut my hair, but only when they break my balls."
"I see some friends of mine finishing school, and not even they know what to do of their life, whether to go university or to work. But I think that one thing that helps us live in a more daring way is to have a target. It can be whatever, sport or job. But Good Lord if you have in mind a target, something to reach, I believe that helps you carry on fearlessly."
"I was 14 years old and I was riding my dad's big scooter up and down the path to home. And my mom was so worried: 'Good Lord, slow down, your aunt will arrive on the other side, take care.' Me, what do I care about my aunt ... So I was going full speed down. The aunt arrived ... I only had the time to see the white outline of her Opel appearing. I had the quickness of reflex to hit her car head on."
In memory of Simoncelli
Remembering an idol
A last goodbye
In the words of Simoncelli ...
In the words of Simoncelli ...
In the words of Simoncelli ...
In the words of Simoncelli ...
In the words of Simoncelli ...
In the words of Simoncelli ...
In the words of Simoncelli ...
STORY HIGHLIGHTS
Funeral of Italian motorcyclist Marco Simoncelli held in his hometown Coriano on Thursday
Gresini Honda rider died after a crash in Malaysia on Sunday at the age of 24
Simoncelli is remembered for his colorful style and positive approach to life
Journalist says Italians are mourning the loss of "a pure talent with a pure soul"
Editor's note: Tancredi Palmeri is an Italian sports journalist who contributes to Gazetta dello Sport.
(CNN) -- People have been crying for days. Thousands have left messages, seeking to understand this tragedy.
Messages like, "I never felt so empty and cried so much for someone I didn't know personally."
Marco Simoncelli was not just one of Italy's most promising motorcycling stars, he brought sunshine into a hard world, in hard times.
And that's what makes his death at a race in Malaysia last weekend, at the age of only 24, so hard to bear.
"Someone says that God calls the best ones first; maybe that's why he had to go," said his father Paolo, before breaking into tears.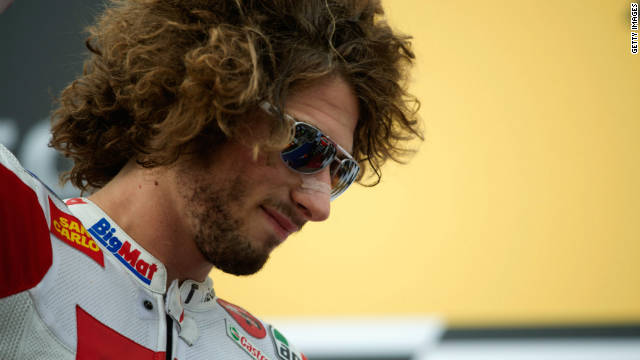 Italian MotoGP rider Marco Simoncelli lost his life after a fatal crash in Malaysia on Sunday.
Marshalls rush to assist Simoncelli after he crashed on his Honda (no58) at Sepang.
Race officials at a press conference to announce the death of Italian rider Simoncelli.
Simoncelli waits on the grid before the start of Sunday's Malaysian MotoGP.
Crew members of Simoncelli's Honda team are left distraught by the tragic events.
AC Milan players hold a minute's silence for Simoncelli before the start of their Serie A match Sunday.
Marco's father Paolo Simoncelli is comforted after learning of his son's death.
An Italian MotoGP fan lays flowers under Simoncelli's race number in the town of Cattolica.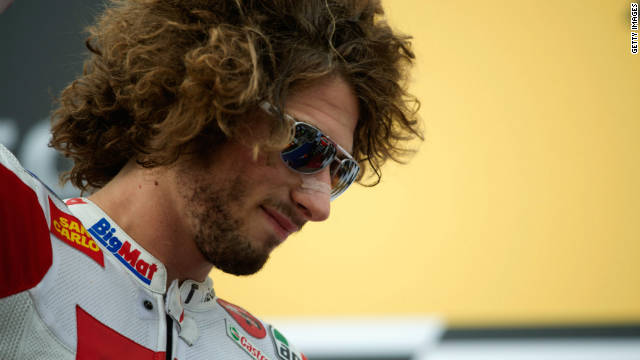 Simoncelli dies in Malaysian MotoGP crash
It was one of the few times his father has cried. He gave a long television interview showing Marco's room -- that of a teenager not of a world championship rider, with posters of his hero Valentino Rossi still on the wall.
After the crash at the Malaysia MotoGP in Kuala Lumpur where his son died, Paolo Simoncelli spoke a lot. Unexpectedly, he thanked everyone -- those who helped Marco, the journalists, the thousands of fans queuing in the rain for a last farewell.
His father is dying inside, and we should be comforting him, but instead we wait for his words to try to comfort ourselves. He has every reason to be upset, but instead he talks to us serenely, thanking life for giving him such a shining son.
Paolo tells us how positive Marco was to everyone, "and that he was beautiful even when I saw him dead." This is another gift we get from Marco Simoncelli -- joyful, smiling, happy when alive -- and now his family are still inspiring us to love life even when anger would be justified.
Kate Fretti has been Marco's girlfriend since 2006. It's known that motorsport offers lots of "fun'" for drivers. Marco once said: "Lots of girls come close, it would be so easy ... But I feel good with Kate, why would I mess everything up?"
He was beautiful even when I saw him dead
Marco Simoncelli's father Paolo
They were building their house. Not the one of a millionaire. It is right beside Marco's parents' house, with a huge table to have dinner with all their friends. Despite all his money, they were a normal boy and girl of our times, trying to make their way.
"Marco didn't give a damn about money," Paolo Simoncelli said. "He used to say: 'Can we buy food without looking at the price? So we are rich."
He had a unique talent for expressing his emotions on a bike. He was very open to the world, even if it sometimes landed him in trouble.
Back in May, after being heavily accused by Spanish press and riders of causing Dani Pedrosa to crash and break his collarbone, several death threats were addressed to Simoncelli from Spain ahead of the Catalunyan GP.
At first, his Honda team and his family hid those threats from him, knowing they would shock his sensitivity. A few days before traveling to Barcelona, they revealed what was going on at a dinner.
Marco was scared, but most of all staggered. His girlfriend said that, while listening to his father, Marco reduced the wine cork he was holding into tiny pieces. He kept on repeating: "Why do they threaten me? What I have done wrong?"
While a public figure might usually dismiss those threats as from some maniac, Marco instead questioned himself. He couldn't understand why this could happen.
You always laughed with him, just remember the good times you had together
Rossella Simoncelli
But he was not only a genuine guy, he was also a formidable rider. Valentino Rossi is the legend, while Casey Stoner and Jorge Lorenzo are the leading lights now. But maybe nobody, not even Valentino, has the sense for overtaking and for going over the limit like Simoncelli. That's why he was so criticized during his battle with the Spanish riders.
But the same things were said 30 years ago to Gilles Villeneuve and 25 years ago to another Formula One star, Ayrton Senna. "He is dangerous, he is crazy, someone will soon be hurt," they said of Simoncelli.
But Simoncelli was a real racer -- and that means overtaking. Carlo Pernat, his manager and a significant figure in the world of MotoGP racing, described him as: "A driver not of this time, from an era where racing meant trying every second to go past your rival."
Obviously, a rider like this made his rivals nervous. Seven-time world champion Rossi, who loved Simoncelli as a brother, explains it best: "Having a duel one-vs-one with Marco, it's like if you're going to have a punch against a huge guy: you already know you will always be the one beaten up."
Italy had a gem, a pure talent with a pure soul. That's why the tears can't stop.
His mother Rossella was at home at Coriano, Rimini, when Marco died. A couple of hours after his death, some of his friends gathered outside the house, crying together. She walked out, the greatest pain inside her but dignity on her face, and told them: "No guys, stop crying. Marco would be so sad to see you fall apart. You always laughed with him, just remember the good times you had together."
He was not only a genuine guy, he was also a formidable rider
Tancredi Palmeri
Marco Simoncelli is unique for us because -- despite how Italians feel aggrieved by his fate -- when we see him again on TV, when his interviews are replayed, we can't help but laugh. He was the hilarious cousin always in a good mood, the one you were looking forward to spend time. Funny, mamma mia, so funny.
He was our "Super Goof." Would you ever imagine a celebrity saying this: "When I wake up early, for example when I have jet-lag, I run to jump in the bed of my parents while they sleep. I'm crazy for that."
His nickname was actually "Super Sic." And now his last farewell has been given, bikes escorted his coffin to the church, and 60,000 people attended his funeral on Thursday.
It was broadcast live by three Italian channels, while in some cities thousands of bikes gathered for a parade ended by loud roars in his honor. Spanish fans plan to go to 2011's final MotoGP race in Valencia next weekend with thousands of curly bushy wigs like his hair.
The best way to say goodbye is remember him with his own words. Words of a kid who was always surprised by the world, and made us smile so much (see picture gallery above).