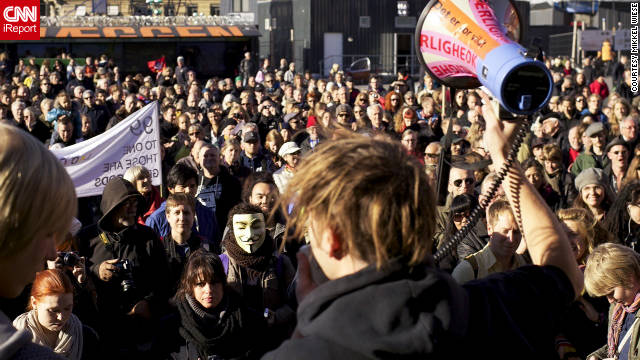 A crowd of about 3,000 people joined for Occupy Denmark on Saturday, October 15. "They want money spent on the 99 percent, and they want to take [money] not only from the rich but also from the expenses on wars," iReport contributor Mikkel Wiese said.
Protesters gather outside a government building in Norway for Occupy Oslo on Saturday.
Protesters gather in Brussels, Belgium, near the Dexia building on Saturday. Police estimate about 7,000 people marched through the city. One person has been arrested for assaulting a police officer, said Christianna de Ridder, a police spokesperson. No other violence has been reported.
Vandalism erupts in Rome on Saturday as protesters initially took peacefully to the streets to speak out against corruption. Anarchists clashed with police and other protesters who attempted to extricate the rowdy demonstrators from the march. Tens of thousands of protesters marched in Rome as part of a global day of protests.
More than 2,000 people protested in Amsterdam on Saturday, iReport contributor Sarah Matson said.
More than 10,000 protesters retake the streets Saturday, in Madrid, where five months ago the "May 15 Movement" began. Some demonstrators said they felt Spain's protest had gone global and that the world had joined their movement.
Protesters gather in front of the European Central Bank in Frankfurt, Germany, on Saturday. Protesters also marched in other major cities, including the country's capital, Berlin. The central site for the international movement, United for Global Change, said 951 cities in 82 countries will take part in the rallies.
A protester stands on the steps of St. Paul's Cathedral in London on Saturday. WikiLeaks co-founder Julian Assange led the thousands of protesters in chants outside the church.
Protesters hold a banner that says in Swedish, "We refuse to pay the crisis of capitalism," as they take part in the Occupy Stockholm demonstration on Saturday.
On Saturday, protesters in Hong Kong, China, participate in the worldwide demonstrations inspired by the Occupy Wall Street movement.
A protester in Seoul, South Korea, holds up a banner in front of the main gate of Deoksu palace on Saturday.
Protesters take part in the movement in Taipei, Taiwan, on Saturday.
A Japanese protestor wears a mask that says "we are 99 percent" during a Saturday protest in Tokyo.
Protesters in Zurich, Switzerland, march against the banking industry and U.S. authorities.
Occupy protests go global
Occupy protests go global
Occupy protests go global
Occupy protests go global
Occupy protests go global
Occupy protests go global
Occupy protests go global
Occupy protests go global
Occupy protests go global
Occupy protests go global
Occupy protests go global
Occupy protests go global
Occupy protests go global
Occupy protests go global