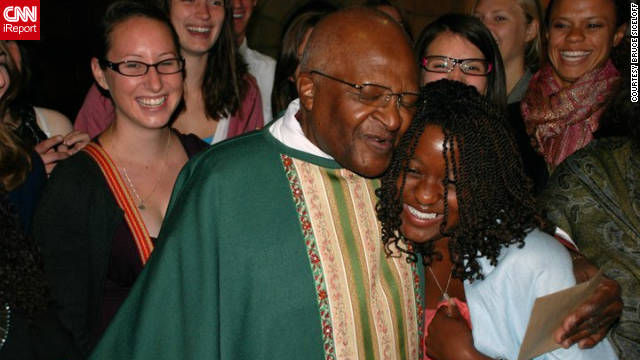 Chelsea Breana Bailey received a hug from Archbishop Desmond Tutu after giving him a card for his 79th birthday in Cape Town, South Africa. "He was very candid, humorous and open with the congregation," said Bailey. "About a week after we met, (Tutu) e-mailed a thank you note for the birthday card. I remember being stunned that he took the time to write the note."
After spotting the Archbishop in London's Heathrow airport, iReporter Blaise Buma summoned up the courage to ask Tutu for a photo. "He immediately jumped from his seat and asked his aide to take the picture. I was humbled by the experience," he said.
While working for the United Nations in Somalia in 2002, Andrea Tamagnini met Tutu during an event in Nairobi. "I remember he was very eager to know what we were working on in Somalia," said Tamagnini. "I'll never forget his words of encouragement, his open smile and his kindness."
Rev. Robert Taylor remembers hosting a talk for Tutu and the Dalai Lama on the subject of compassion last year. He recalls how the two friends joked with each other and the audience. "His Holiness was poking Tutu and said, 'You've got fat! You've put on weight!' With that they both collapsed into peals of laughter."
"Desmond Tutu is a man of many facets," says Emma Smith who met Tutu aboard a ship during a four-month study program entitled "Semester at Sea." Smith say she remembers Tutu for his "joyous demeanor, his wise words, but most of all, his infectious laugh."
This picture of Peter Harrison and Tutu was taken during a peace mission to Cyprus this year. "Desmond Tutu has left a very positive impression on me," said Harrison. "He made a number of jokes and made everyone laugh which I found unusual considering the serious role that Desmond Tutu has."
Gretchen Ann D'Huyvetter Cobb shared a family dinnner with Archbishop Desmond Tutu in May 2009 when he was visiting Decatur, Georgia. "I was overjoyed to bring my firstborn along and cried tears of joy as I saw my son's recognition of the joy, the laughter, the spirit that is the Archbishop," she said. "We all danced and sang and lifted our voices together in a joyful prayer of thanksgiving."
Donna Lynn Blackwell asked Archbishop Tutu to bless her grandson when he was in New York City in 2008. "Archbishop Tutu is goodness personified," Blackwell said. "So when my grandson Miles Taylor was born in June of 2007 my most fervent wish for him was for Archbishop Tutu to hold him and bless him."
Meeting Desmond Tutu -- Cape Town
Meeting Desmond Tutu -- Heathrow airport
Meeting Desmond Tutu -- Somalia
Meeting Desmond Tutu -- Washington
Meeting Tutu -- Sailing round the world
Meeting Desmond Tutu -- Cyprus
Meeting Tutu -- Family Dinner, Georgia
Meeting Desmond Tutu -- New York City