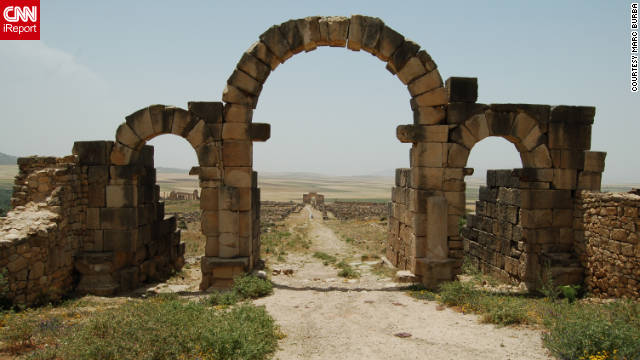 iReporters share photos they captured of Morocco's majestic beauty during their adventures. Marc Burba took this photo of a stone archway that leads to the main road of Volubilis. These Roman ruins are a UNESCO World Heritage site. "It was sunny and extremely hot, but because of that we had this amazing site almost all to ourselves."
Jessie Faller-Parrett snapped a shot of this view at dusk. "The square in Marrakech is a fascinating spot, day or night, complete with food vendors, snake charmers and performers. Found a spot on a balcony, drank mint tea and watched the day-to-night transition for nearly four hours -- what a scene!"
David O'Neill took this photo of Jebel Toubkal, the highest mountain in Morocco and West Africa. This view "demonstrates the progression along the lip of the basin with some other hikers in the foreground."
Marc Burba felt compelled to snap a shot of this couple in Fez. "A young couple enjoys the sunset from the Borj Nord Hill. An old cemetery is below them."
Joanne Huang shared this photo of "the tranquil and magnificent Amanjena resort on the outskirt of Marrakesh."
Marc Burba took this photo of a popular site in Fez. "The water clock in Fez medina dates to the 1350s. It was undergoing restoration."
Jessie Faller-Parrett "took a two-day, two-night camel trek into the desert and rode camels, spent the nights in camps with Berber families, ate wonderful meals, hiked sand dunes, and saw an endless sky of stars."
Chris Freeman captured "the view along the road hugging the coast" of Chefchaouen. He recommends renting a car and driving. "This allowed us to see parts of the country that are rarely ever seen by tourists."
Marc Burba snapped a shot of shoes for sale in a leather shop. Leather tanneries are a common sight throughout Morocco.
Joanne Huang shared a lovely sunset shot from the rooftop of Hotel Les Jardins de La Koutoubia. "Morocco is a very historic and magical place that has a profound respect for its traditions and culture, while hints of modernity can be picked up here and there."
Marc Burba captured this ancient view. "The Basilica of Volubilis served as a courthouse," he said.
Jessie Faller-Parrett took this photo in the early evening after arriving at one of the remaining fortress walls in the Atlantic Coast city of Essaouira. "A beautiful seaside town with a European feel, Essaouira offers a relaxed atmosphere, great fresh seafood and beautiful scenery."
Marc Burba shared a beautiful perspective shot of a man climbing up Borj Nord Hill with Fez in the background.
Joanne Huang shot this while "relaxing at the outdoor swimming pool of Amanjena while enjoying the Moroccan-style architecture. The vibrant culture, wonderful people, amazing food, and the breath-taking sights alone would be more than enough reasons for me to go back again and explore the rest of Morocco!"
Marc Burba shared a photo of this family walking past a high wall of the medina. "The holes are used as birdhouses," he pointed out.
Volubilis, Morocco
Marrakech, Morocco
Jebel Toubkal, Morocco
Fez, Morocco
Marrakech, Morocco
Fez, Morocco
Merzouga, Morocco
Chefchaouen, Morocco
Fez, Morocco
Marrakech, Morocco
Volubilis, Morocco
Essaouira, Morocco
Fez, Morocco
Marrakech, Morocco
Fez, Morocco