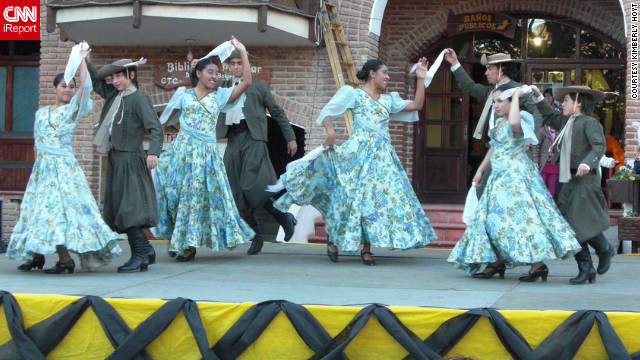 Selling her family's home in Argentina made writer Didi Gluck question whether she would ever return. A visit there answered her question: "With or without the house, it's part of who I am." iReporters shared their photos of Argentina's natural and cultural mystique. Kimberly Hoyt took this photo of children folk dancing at the Festival del Chocolate in Villa General Belgrano. "From those with an adventurous streak to those who want to wine and dine their way through the country, there's something for everyone!"
Aldridge Murrell snapped this shot of Iguazu's seemingly endless waterfalls, of which there are 200. "There are catwalks on multiple levels to view falls up very close. You can also take a boat ride that is guaranteed to get you wet."
Natasha Taratuta took this photo during a glacier hike. "We went to the Perito Moreno Glacier and did the big ice trek, where you hike next to the glacier and then on it for about six hours. It was breathtaking."
María Gabriela Mac Hannaford took this photo during the fifth live painting session of "Street Arte BA" in Buenos Aires. It is an annual festival celebrating the city's iconic street art.
Michael Henry snapped this shot of shelters in Patagonia. "The trip made me a better person, as any good trip will do. It made me proud to live on such a beautiful planet."
Douglas Haffer shared this photo of penguins gathered along the shoreline in Tierra del Fuego. He loved that "penguins are available to walk amongst."
Thomas Carr took this photo of Cerro Camanario. "It has one of the best views of the surrounding area and its many majestically large lakes."
María Gabriela Mac Hannaford shared this photo of Edificio de la Jefatura de Gobierno de la ciudad in Buenos Aires. "I love this city and its architecture," she said.
Douglas Haffer captured this view of Tierra del Fuego. "I have traveled to all continents and seen nearly 100 countries, but there is something otherworldly about Tierra del Fuego. It is such a unique environment that it is among my favorite places."
Glenn Michael Egner shared this photo of the lighthouse on the Beagle Canal. "It is an incredible place... such natural beauty."
Michael Henry shared this photo of "trekkers on the rainy steppe" from the Patagonia region. "The clean, cold, super strong wind that blows almost constantly through Patagonia breathes new life into you, literally. "
Amy Billing snapped this shot of Buenos Aires street art. "Caminito Street in the barrio of La Boca in Buenos Aires is filled with amusing figures, street art and colorfully painted homes. It is also common to catch a short glimpse of a tango dance in the streets."
Rebecca Schwartz captured this unique perspective of Iguazu Falls. "The only thing I can say in confidence about this magical place is that I was expecting to see dinosaurs because this destination is the closest place to 'Jurassic Park.'"
Michael Henry shared this view of Cerro Torre, Mt. Fitz Roy and Torre glacier from Pliegue Tumbado. "It's one of the world's finest views."
Villa General Belgrano, Argentina
Iguazu Falls, Argentina
Perito Moreno Glacier, Argentina
Buenos Aires, Argentina
Patagonia, Argentina
Tierra del Fuego, Argentina
Cerro Camanario, Argentina
Buenos Aires, Argentina
Tierra del Fuego, Argentina
Beagle Canal, Argentina
Patagonia, Argentina
Buenos Aires, Argentina
Iguazu Falls, Argentina
Patagonia, Argentina