Fans go wild: Rugby World Cup fever in New Zealand
updated 12:50 PM EDT, Fri September 23, 2011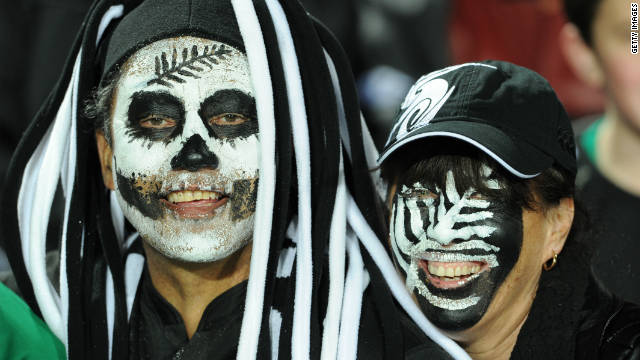 The 2011 Rugby World Cup is being hosted by New Zealand, whose top-ranked All Blacks team have enjoyed the passionate backing of the whole country.
Australia's two-time world champion Wallabies also have a dedicated following, with these four fans sporting all-in-one lycra suits.
The England team proudly display a rose on their team crest, with this fan taking it one step further.
Georgia fans have had little to cheer at the Rugby World Cup, having only won one match at the tournament prior to this year's edition. That hasn't stopped their fans enjoying the festival of rugby in New Zealand.
Ireland have participated in every World Cup to date, and their fans can always be seen at the tournament draped in the famous green of their team's jersey.
The United States will need a super-human effort to advance beyond the group stage at this World Cup, so it's a good job they have comic-book hero Wonder Woman backing them in the southern hemisphere.
Russia's Bears make their Rugby World Cup debut in 2011, giving their fans plenty of reasons to get excited.
Scotland always bring a large number of passionate supporters to any Test match, like these four members of the Tartan Army.
All eyes will be on South Africa's defending champions to see if they can match their achievements of four years ago. Their fans have also made an effort, with these supporters getting dressed up to cheer on the Springboks.
The World Cup appeals to fans of all ages, including this boy willing on Wales.
All Black and white
All-in-one for Australia
England in bloom
Gorgeous Georgia
Irish eyes are smiling
Wonder women
Roaring on Russia
Blue is the color
Suited and booted for South Africa
Willing on Wales
STORY HIGHLIGHTS
The Rugby World Cup plays host to 20 countries from six continents
This is the second time New Zealand has been a host nation of the tournament
The final will be played at Auckland's Eden Park on October 23
(CNN) -- The 2011 Rugby World Cup is in full swing, and the four-yearly tournament has attracted fans from all over the world to the stadiums of New Zealand.
The festival of sport is playing host to 20 countries from six different continents, with fans showing their support in a vast array of colors and forms.
Although only one team can emerge with the Webb Ellis Trophy at Auckland's Eden Park next month, rugby fans from all over the globe will savor the action before the world champions are crowned on October 23.