Red Cross connects Yemeni families, Guantanamo detainees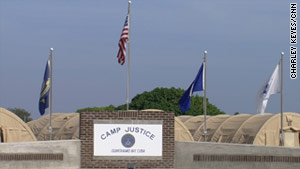 There are 90 Yemeni nationals currently detained at Guantanamo Bay, according to the Red Cross.
STORY HIGHLIGHTS
Until now, families have talked to relatives on the phone or through messages
The Red Cross has made video-conferencing available
4 families have tried it so far
(CNN) -- Some families in Yemen have not seen their relatives imprisoned at the U.S. facility in Guantanamo Bay, Cuba, in almost a decade.
Now, for the first time, they are able to use video-conferencing technology made available by the International Committee of the Red Cross to change that.
The first video-conference calls were made about 10 days ago at the Red Cross delegation in Sanaa, the capital of Yemen, the organization said.
"This is the first opportunity families in Yemen and their detained relatives in Guantanamo Bay have had to use video-teleconferencing," said Nourane Houas of the Red Cross' Sanaa delegation. "So far, four families have done so."
According to the organization, there are 90 Yemeni nationals currently detained at Guantanamo Bay. Communication usually was through messages forwarded by the Red Cross or by telephone calls.
The video calls can last up to an hour, the organization said.
"Nothing -- not even live video -- can replace a face-to-face visit, but a video call is considerably more satisfying than a phone call or written message," Houas said.