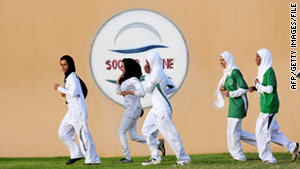 Saudi members of the King's United women football club train at a stadium in the Red sea port of Jeddah in 2009.
STORY HIGHLIGHTS
It is not "okay for girls schools to hold sports classes," an official says
Women are allowed very little access to sports in the conservative kingdom
A prominent Saudi female athlete says the schools may mean to confront opponents
An Information Ministry official says he doesn't think the investigation will go far
(CNN) -- Saudi Arabia's Ministry of Education has launched an investigation into a potentially illegal girls-only sports competition that was held in the city of Jeddah in December, according to Saudi Arabian English-language daily newspaper Arab News.
According to the newspaper, the competition was held at Effat University's sports facilities and 200 schoolgirls from six high schools competed in a variety of sports, ranging from basketball to swimming.
"We don't have any regulations that say that it's okay for girl schools to hold sports classes or training," Ahmed al-Zahrani, director of the Girls Education Department in Jeddah, told Arab News. "This tournament was held by these schools, something that has now led us to know about their illegal activities."
In Saudi Arabia, which practices a very conservative version of Islam known as Wahhabism, women have very little access to sports. Physical education programs don't exist in the kingdom's state-run girls schools, as many conservative clerics in Saudi Arabia believe allowing women to engage in sports would be sinful.
The schools "should have requested a meeting with the Ministry of Education, but they went behind our backs and held the competition without us knowing," al-Zahrani told Arab News.
Sameera al-Harakan, administrator of Al-Ferdous Schools, told the newspaper, "After the competition, I received more than 60 messages from anonymous people demanding I stop girls from taking part in sports, and that this is a boys-only activity and not for girls."
Lina al-Maeena, captain of the Jeddah United women's basketball team and one of Saudi Arabia's most prominent female athletes, told CNN she and her teammates played an exhibition game at the event. She learned of the investigation Monday from local media, but said she isn't worried.
"In these types of cases, usually an investigation is as far as it goes," said al-Maeena, who added she has not been contacted by any government officials in this matter. "And even if one official with the Ministry of Education is trying to launch an investigation, these officials don't necessarily represent the viewpoint of the entire ministry."
Al-Maeena believes the organizers of the event were fully aware of the ramifications they could face by putting on the tournament.
"These schools, their owners and head mistresses -- they knew exactly what they were up against and that's why they allowed media to cover it," al-Maeena said.
"The fact that they did allow media in to cover the event," she added, "that means they believe in it and they want to confront, if need be, any personalities who don't believe in sports for women, and that they want to encourage sports programs for women in Saudi Arabia."
Al-Maeena said the message being sent by these schools is, "You're not going to stop us and if you want to investigate us, go ahead and investigate us."
CNN was unable to reach Saudi Arabia's Ministry of Education for comment.
But one official at Saudi Arabia's Information Ministry told CNN he has read local media reports about the matter and doubts an official investigation has actually been launched.
The official, who was not authorized to speak to the media regarding this matter, said he had not been informed of any official investigation and that there was "no written law in Saudi Arabia prohibiting this type of tournament from taking place."
The official added that, even if an investigation has begun, he's doubtful it will go very far.
"This tournament didn't happen in public, only female athletes were participating, and only female spectators were attending -- there is nothing wrong with that. The schools that participated in this tournament are private schools. It's not illegal here for private girls schools in the kingdom to hold these types of private sporting events, even if the media is in attendance" said the official.
In the past few years, more and more Saudi women have been pushing publicly for the right to play the sports they love in their country. Al-Maeena has been at the forefront of that struggle and believes things are beginning to change.
No matter the outcome of any investigation, al-Maeena doesn't think the controversy over this tournament will ultimately discourage Saudi female athletes.
"I really don't think it's going to scare people away," she said.
FOLLOW THIS TOPIC