Iran's supreme leader: Hariri probe result will be 'null and void'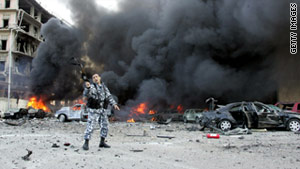 Hariri was killed in Beirut on February 14, 2005.
STORY HIGHLIGHTS
Khamenei calls the U.N.-backed tribunal a "kangaroo court"
The tribunal reportedly suspects Hezbollah of involvement in the killing
Hezbollah, in turn, accuses Israel
Hariri was killed in a car bombing with 22 others
Tehran, Iran (CNN) -- Any indictment handed down by a U.N.-backed court looking into the 2005 killing of former Lebanese Prime Minister Rafik Hariri will be "null and void," Iran's supreme leader said Monday.
"This court is a kangaroo court, and every verdict it issues is rejected," Ayatollah Ali Khamenei said after a meeting with the emir of Qatar, Sheikh Hamad bin Khalifa Al-Thani.
The comments, reported by state-run Press TV, come a day after Lebanese parliament speaker Nabih Berri told Iranian media that a potential indictment against Hezbollah is "political blackmail by some of the world's most powerful countries."
The tribunal is an independent body set up after an earlier U.N. mission found that Lebanon's own inquiry into the massive car bombing that killed Hariri and 22 others was seriously flawed and that Syria was primarily responsible for political tensions that preceded the bombing.
The tribunal reportedly suspects a top leader from Hezbollah -- Secretary General Hassan Nasrallah -- of involvement in the killings. Analysts say the group is backed by Iran and Syria.
Hezbollah, instead, accuses Israel of being behind Hariri's death.
In October, two investigators from the U.N. court's prosecutor's office and their interpreter were attacked by "a large group of people" who showed up at a meeting that was part of the investigation, the United Nations said.
The court said it would not be deterred from trying the people it suspects killed Hariri and the others, calling the attack on its staffers "a deplorable attempt to obstruct justice."
"Those who carried out this attack must know that violence will not deter the Special Tribunal for Lebanon, a court of law, from fulfilling its mandate," the tribunal, based in The Hague, Netherlands, said in a news release.
Hariri's death stunned the nation and prompted tens of thousands to take to the streets, blaming Syria for the killing. Syria has always denied the accusations.
The explosion left a 10-foot crater in a street in downtown Beirut and had a similar effect on the country's political culture.
At the time of the killing, neighboring Syria had immense political influence in Lebanon.
A U.N. Security Council resolution demanded Damascus fully cooperate in the U.N. investigation. The assassination and subsequent investigation led to a complete withdrawal of Syrian troops from Lebanon after 30 years of military presence.
The tribunal's prosecutor, Daniel Bellemare, is expected to issue the long-awaited indictment by the end of the year.