Allawi will take part in Iraq's coalition government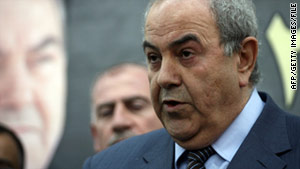 Ayad Allwi is seen as the man to head the new National Council for Higher Policies.
STORY HIGHLIGHTS
Allawi's rival plans to present a new Cabinet to parliament Monday
Allawi's announcement effectively ends a months-long political stalemate
The agreement is part of a power-sharing deal forged in November
Baghdad, Iraq (CNN) -- Former Prime Minister Ayad Allawi indicated Sunday that he will take part in the new Iraqi Cabinet that his rival, incumbent Prime Minister Nuri al-Maliki, plans to present to parliament Monday, effectively ending a months-long political stalemate.
Allawi said in a statement that his al-Iraqiya bloc "will play our role actively, productively and cooperatively, and in a spirit of good faith and trust-building, as long as we find that this spirit is echoed and reciprocated by our partners in the political process."
In the March 7 elections, Allawi's bloc won 91 seats, the largest number for any group, and al-Maliki's list trailed with 89. But neither group could come up with the 163 seats needed for a governing coalition.
A power-sharing deal forged last month between the major blocs signaled a possible end to the political squabbling.
A main condition of the deal is the formation of the National Council for Higher Policies. Although its authority and structure are still being worked out, its creation is said to limit the authority of al-Maliki. Allawi, who edged out al-Maliki in the March vote to gain the most seats, was seen as the man to head the council. His statement confirmed that Sunday.
"The aim of this council is not to weaken or undermine the executive, legislative or judiciary authorities but rather to strengthen them by playing the role of a guarantor to push the agreed-upon programs and reforms in areas of higher policies; working to achieve political agreement; and as a vital institution to exercise true national partnership," Allawi said.
His confirmation of heading the council and parliament's lifting of a ban Saturday on three politicians remove two major hurdles for the unveiling of the new government Monday.
The politicians reinstated Saturday had been barred from participating in Iraqi elections because of a purported link to Saddam Hussein's banned political movement, the Baath Party.
The lifting of the ban was a top requirement made by Allawi's bloc.
Allawi's bloc is Sunni-backed, and the inclusion of Sunni Arabs in the government has been important to maintain national unity. Sunnis lost their clout after Hussein was toppled, and many became disaffected and supportive of the insurgency.
The moves Saturday came as al-Maliki and Allawi met, according to a lawmaker close to al-Maliki who was speaking on state TV.
Al-Maliki is expected to present a partial government on Monday for a parliamentary vote, four days before his constitutional deadline to form a government runs out. The government lineup, according to senior politicians, will be missing the three posts of security ministers (interior, defense and national security) who would control the country's army and police.
Politicians say more time is needed to nominate candidates for these sensitive posts.
FOLLOW THIS TOPIC