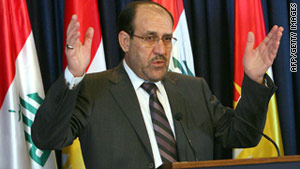 Prime Minister Nuri al-Maliki plans to present his new Cabinet to parliament Monday for approval.
STORY HIGHLIGHTS
NEW: Al-Maliki and Allawi meet to discuss plans
Al-Maliki is to present a new Cabinet to parliament on Monday
A political ban was lifted on three politicians said to have Baathist ties
A power-sharing deal was worked out last month
Baghdad, Iraq (CNN) -- Iraq moved a couple of steps closer Saturday to forming a government after a maddening year marked by political squabbling and paralysis.
Parliament on Saturday lifted a ban on three politicians who were barred from participating in Iraqi elections because of purported links to Saddam Hussein's banned political movement -- the Baath Party.
Incumbent Prime Minister Nuri al-Maliki plans to present his new Cabinet to parliament Monday for approval, lawmakers from his bloc said.
The moves promise to end Iraq's political stalemate and lead to the installation of a new government.
The inconclusive national elections took place on March 7, but politicians, most particularly al-Maliki and former Prime Minister Ayad Allawi were unable to forge a compromise for a government.
The three reinstated politicians -- Saleh al-Mutlaq, Dhafer al-Ani, and Jamal al-Karbooli -- read a pledge condemning crimes by the Baath Party and its members.
Out of the 170 parliament members present, 109 voted to lift the ban.
The lifting of the ban was a top requirement made by al-Maliki's rival bloc, al-Iraqiya -- led by Allawi.
The demand is part of the U.S.-brokered power-sharing deal forged between the competing blocs last month.
A walkout by Allawi and members of his bloc last month from parliament threatened the fragile power-sharing deal that seemed to be falling apart. However, mediation by various parties and the United States has helped salvage the deal.
Allawi's bloc is Sunni-backed and the inclusion of Sunni Arabs in the government has been important to maintain national unity. Sunnis lost their clout after Hussein was toppled and many became disaffected and supportive of the insurgency.
The moves Saturday came as al-Maliki and Allawi met, according to a lawmaker close to al-Maliki who was speaking on state TV.
They also had a recent meeting in which Allawi indicated that he will be part of the government, even though he threatened last month that he might not participate.
After meeting at the house of former Prime Minister Ibrahim al-Jaafari on Tuesday, both leaders described the talks as positive and the first in a series of meetings ahead of government formation.
Allawi described the meeting as "positive and fruitful," adding that both men have a "common vision" and envision more meetings that would get into the details of their aspirations.
A main condition for the participation of Iraqiya is the formation of the National Council for Higher Policies, a body forged in the power-sharing deal.
While its authority and structure are still being worked out, its creation is said to limit the authority of al-Maliki. Allawi, who edged out al-Maliki in the March vote to gain the most seats, was seen as the man to head the council.
Iraqiya members have demanded that the law governing this council must be passed ahead of government formation, but other blocs have said that because it requires legislation the law would not happen until parliament forms a legal committee.
FOLLOW THIS TOPIC