Suicide bombings in Iraq kill 14, injure 53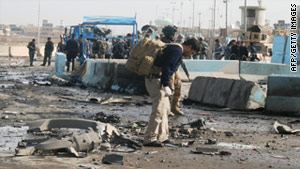 Iraqi security forces survey the scene of a suicide attack in Ramadi,
STORY HIGHLIGHTS
Most of the casualties from a suicide car bombing are civilians
Another suicide bomber strikes a gathering of Shiites
Baghdad (CNN) -- At least 11 people were killed and 41 others wounded after a suicide car bombing in central Ramadi, Iraq, the country's Interior Ministry said Sunday
The ministry said the bomber detonated near the western entrance of the Anbar provincial council building by a checkpoint. Most of the casualties were civilians, the ministry said.
In another attack on Sunday, at least three people were killed and 12 others wounded in a suicide bombing targeting Shiites, said Maj. Ghaleb Attiya, Diyala police spokesman. At least six police officers were among the wounded, he said.
The suicide vest bomber struck a gathering of Shiites marking the Shiite commemoration of Ashura in the al-Qatoon neighborhood in west Baquba.
Shiites in Iraq and around the world are commemorating the martyrdom of Imam Hussein, prophet Mohammed's grandson, during the lunar Islamic month of Muharram.
FOLLOW THIS TOPIC