STORY HIGHLIGHTS
Mathaf Arab Museum of Modern Art set to open later this month
Museum's chief curator says museum will not shy away from exhibiting controversial works
Arab art expert Saleh Barakat says Qatar wants to convey it's an open society
Mathaf is one of several prestigious art exhibition spaces planned for the region
Doha, Qatar (CNN) -- With exhibits showing nudity and politically radical ideas, Qatar's brand new modern art museum may raise a few eyebrows in the traditionally conservative Middle East.
The Mathaf Arab Museum of Modern Art, founded by powerful Qatari art patron Sheikh Hassan bin Mohamed bin Ali Al-Thani, is slated to open in Qatar's capital, Doha, just before the new year.
Wassan Al-Khudhairi, Mathaf's chief curator, says one of the museum's major contributions to the growing Middle Eastern art scene will be to push the boundaries of what is deemed acceptable in the region.
That means that works containing nudity and politically sensitive imagery -- often taboo subjects in this part of the world -- will not be subject to censorship, according to Al-Khudhairi.

Qatar's new cultural icon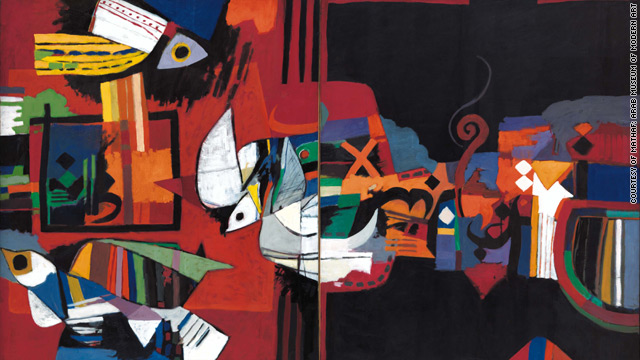 Gallery: Mathaf: Arab Museum of Modern Art
"The collection has these kinds of works in it. The collection has nudes; the collection has political works. These things are part of the collection -- we can't deny it."
She added that Mathaf was willing to risk criticism for showing controversial works.
"I think there will be all kinds of feedback and the museum is about creating a space for dialogue; a platform for discussion," Al-Khudhairi said.
Mathaf, which means "museum" in Arabic, will host a collection of more than 6,000 artworks dating from the late 1800s to the middle of the 20th century.
The collection, amassed by art patron Al-Thani over more than two decades of championing creativity throughout the Middle East, is now owned by the Qatar Museums Authority in partnership with the non-profit Qatar Foundation
The museum will hold its debut exhibition, titled "Sajjil," at its temporary home in a 5,500-square meter former school building updated by French architect Jean-Francois Bodin.
"Sajjil," which features paintings and sculptures by more than 100 key modernists, is aimed at bringing contemporary Arabic art to a wider audience.
"Our first exhibition, 'Sajjil' is about the interaction and about the contribution of Arab artists to a larger art historical context," Al-Khudhairi said.
"By making it public, we are able to open it up to everyone in Qatar, in the region, internationally."
Crucially, adds Al-Khudhairi, it will also draw attention to a contemporary art scene that developed in parallel with European movements but has been largely overlooked.
"(The exhibition will) give exposure to these artists to fit into history a period of time that's missing from art historical books and accounts," she said.
The collection has nudes; the collection has political works. These things are part of the collection -- we can't deny it
--Mathaf Chief Curator Wassan Al-Khudhairi
Saleh Barakat, a Beirut-based leading expert in contemporary Arab art, described the museum's opening as "an exceedingly important moment in the history of modern and contemporary art."
Barakat says the museum's commitment to academic study and research will be particularly significant.
Arts patronage in Qatar, and the wider region is reaching new heights, amid a recession-busting art boom, as governments vie for the title of the region's cultural capital.
Read more about the Middle East art explosion
Two years ago, Doha opened the doors of its Museum of Islamic Art, an iconic structure that celebrated architect I.M. Pei. was coaxed out of retirement at the age of 91 to design.
In Abu Dhabi, a vast Frank Gehry-designed outpost of New York's Guggenheim art museum is under construction alongside a branch of France's Louvre museum.
Art expert Barakat said that Mathaf's commitment to pushing boundaries would help define Qatar's identity as a liberal-minded Arab country, although he said some artworks would remain contentious.
"In Qatar, they are, at least, conveying these messages that they want to be an open society, but I guess that's within limits because these societies have their own culture and their own view of the world," said Barakat.
He added: "Obviously one has to keep in mind we are in Doha and not in New York, and in that instance there are acceptable norms of how any society views nudity or other kinds of provocative issues."
Barry Neild and CNN's Rima Maktabi contributed to this report.
FOLLOW THIS TOPIC