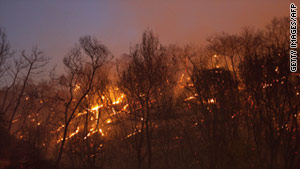 Strong winds have bolstered a fire in Israel's Carmel forest region.
STORY HIGHLIGHTS
NEW: U.S. looking to offer assistance, Obama says
As many as 40 killed in the fire, IDF says
Netanyahu calls it one of the worst fires in Israel's history
Countries are sending aircraft to help fight the fire
Jerusalem (CNN) -- As many as 40 people were killed Thursday in a massive wildfire that erupted Thursday near Haifa in northern Israel and showed no sign of being controlled, the Israel Defense Forces said.
A bus carrying up to 50 people overturned "allegedly after the driver lost control of the vehicle because of the fire and surrounding smoke" as it was traveling between kibbutz Beit Oren and Damon Prison, the IDF website said.
It was not clear from the IDF website how many of the deaths attributed to fire occurred in the bus accident, but the newspaper Haaretz reported that all 40 of the dead were on the bus.
Inmates of the prison were evacuated to temporary jails nearby.
Earlier, authorities had said that 22 people were dead, another 25 were seriously hurt and more were missing in the blaze, which had scorched more than 750 acres in the Carmel Forest near Haifa.
Israeli Prime Minister Benjamin Netanyahu's office called it one of the worst fires in Israel's history and ordered the military to assist rescue and firefighting efforts.
He urged people, including the news media, to stay away from the blaze, which he called "a fire on an international scale."
Several nations, including Turkey, were sending firefighting planes, Israel's Foreign Ministry said. Relations between Turkey and Israel have been tense since last spring, when Israeli commandoes boarded a Turkish ship carrying humanitarian aid for Gaza, killing nine people.
In addition to Turkey's sending two planes, Greece was sending four, France two, Cyprus two, and one each from Croatia, Russia and Azebaijan, the ministry said.
Spain was sending four aircraft, Netanyahu said. "The necessary means are not currently in the field but they are on the way here," he said, adding that he planned to request more planes from Russia.
He predicted that the fire would take time to douse and called for calm. "I think that together, we will surmount this."
In Washington, President Barack Obama said the U.S. government had launched an effort to identify the firefighting assistance that the United States could offer and to provide it to Israel "as quickly as possible."
Friday morning, the Israeli Cabinet was to meet in Tel Aviv to formulate a response.
Micky Rosenfield, an Israeli police spokesman, told CNN that more than 1,500 people had been evacuated from their homes and that the fire was within approximately 5 kilometers of Haifa, Israel's second-largest city.
"We must achieve two goals -- saving lives and putting out the fire, " Netanyahu said Thursday night at the forward command center, according to his media adviser.
Firefighters were continuing to fight the blaze as authorities evacuated nearby communities.
The fire, bolstered by strong winds, blanketed Haifa in smoke.
It was not clear how the fire started, but police were investigating if the blaze started in an illegal dumping ground.