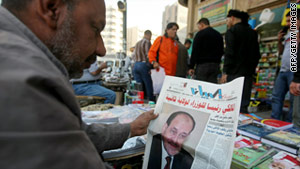 Nuri al-Maliki's new term as prime minister dominates news coverage this week as an Iraqi reads a paper in Baghdad.
STORY HIGHLIGHTS
Iraqi Prime Minister Nuri Al-Maliki calls rival group a "main partner" in process
Al-Maliki says the security agreement is on track
The stalemate in Iraq's government formation went on for months
Baghdad, Iraq (CNN) -- Iraqi Prime Minister Nuri al-Maliki, speaking at his first press conference two days after being formally tapped to form a Cabinet, appeared bullish Saturday on the progress of his security forces and the participation of a key rival in cobbling together a government.
In remarks to reporters Saturday, al-Maliki said government formation negotiations are ongoing daily with political blocs, including former Prime Minister Ayad Allawi's Iraqiya -- described by the current prime minister as a "main partner" in the political process.
"But whether it is Iraqiya or any other person who does not want to participate, it is their choice. If one person does not want to participate, it will not stop government formation, and Iraqiya's participation as a whole is more welcome," al-Maliki said.
Iraq had been wracked by a political stalemate since the March elections. Allawi won 91 seats and al-Maliki 89, and as months rolled on, both men tried but failed to get enough seats to form a government.
The quagmire worried politicians, who felt it would stoke instability across the country -- which continues to endure spurts of large-scale violence.
But this month, a power-sharing agreement jump-started by the Kurds helped push forward a new government. However, it didn't take long for the deal to be threatened.
Hours into the first parliament session after the agreement was announced, Sunni Arab lawmakers from Iraqiya, who believed the pact was being undermined, walked out of parliament, and Allawi, a secular Shiite, later declared power-sharing dead.
But his cross-sectarian list is Sunni Arab-backed, and Sunni participation in the government is seen as key. That's because alienating and disenfranchising the Sunnis, who turned out in large numbers to vote this year, could drive the country to more violence.
The negotiations sparked by the Kurds, the United States and the Arab League have averted another setback in government formation and brought many politicians from Iraqiya back to the political process, which continues to grind on.
A Sunni Arab parliament speaker was selected, and Jalal Talabani, a Kurd, was chosen for a second term as president. On Thursday, Talabani officially named al-Maliki, who is a Shiite Arab, to pick a Cabinet in 30 days.
Al-Maliki said he is starting to receive nominations for ministries and said dialogue is continuing to reach compromises.
He stressed the importance of the candidates' qualifications and competence, and is aiming to have a Cabinet formed before the deadline expires. It has a "time ceiling" that will not go past December 10 to 15, he said.
"God forbid, if we were not able to form a government within 30 days. God only knows what will happen and what direction that country would go in," al-Maliki said.
In response to whether Iraq would extend the security agreement with the United States, which would extend the stay of American troops beyond the December 31, 2011, deadline, al-Maliki was optimistic about the performance of local forces.
He said that there were some who doubted the ability of Iraqi security forces to take over from American forces when they withdrew from urban centers last year and some said the "security situation would collapse" after the drawdown of U.S. forces.
But the troops have proven the opposite and are capable of controlling security, he said.
At present, he said, the dates in the security agreement stand. That outlook is a bit different than it was in March when he told CNN that depending on the situation, Iraq's next government might ask U.S. forces to stay longer.
"I do not feel that there is a need for any other international force to help Iraqis control security issues," said al-Maliki, whose key ally -- the party of radical Shiite cleric Muqtada al-Sadr -- opposes the security agreement.
FOLLOW THIS TOPIC