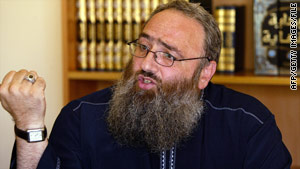 Omar Bakri Mohammed, seen in a 2007 photo, was arrested in Lebanon on Sunday, according to official news media.
STORY HIGHLIGHTS
Omar Bakri Mohammed was convicted in absentia this month
He faces charges of aiding an al Qaeda affiliate and arms possession
Bakri denies the accusation
Beirut, Lebanon (CNN) -- A radical Islamic cleric facing a life sentence on charges of aiding an al Qaeda affiliate has been released on bail while his retrial continues, Lebanon's state news agency reported.
A military court convicted Omar Bakri Mohammed in absentia two weeks ago of charges including membership in an armed group, possession of weapons and explosives, and committing crimes against the state, Lebanon's National News Agency (NNA) reported at the time.
Bakri was arrested after a shootout two days later.
Bakri is having a retrial because he was convicted the first time in absentia. At the start of the retrial Wednesday, he denied the accusation and said he has no links to either an armed organization or to al Qaeda, the NNA reported.
Bakri was released Wednesday on a bail of 5,000,000 Lebanese pounds ($3,333), the army and news agency said.
The court adjourned the proceedings until Dec. 6 in order to hear from public prosecution witnesses, the NNA said.
The government has not released details of the charges, and the military court does not respond to questions from news outlets.
The trial of alleged members of the al Qaeda-affiliated group had been under way for several years, but at no point had he been told that he was among those on trial, Bakri said earlier this month.
He said he did not plan to appeal because he did not recognize the jurisdiction of what he called "a man-made court."
Bakri said he did not condemn al Qaeda, adding that he believed membership to be a blessing from God. He said, however, he had never been a member himself.
The British government has called Bakri a radical who incites his followers to violence. Bakri has proudly proclaimed himself an extremist, but he told CNN he was part of the solution to stopping terrorist attacks and not part of the problem.
He added that he had not preached in public in Lebanon nor had he set up any organizations there. His teaching, he said, was done via the Internet to followers in countries that included Britain, Canada, the United States, and Australia.
Bakri lived in Britain for 20 years until shortly after the July 2005 London bombings, when he fled. Britain's Home Office issued an order in 2005 banning Bakri from returning to Britain "on the grounds that his presence is not conducive to the public good," a Home Office spokesman said then.
In the mid-1990s, Bakri formed the now-disbanded radical group Al Muhajiroun, which has has been linked to a string of attacks and foiled plots -- including the July 7 attacks in Britain and a plot to blow up a shopping center using fertilizer-based explosives.
In an interview with CNN in 2005 in London, Bakri said he played no role in the July 2005 bombings, which killed 52 people. He condemned the attacks and said he did not know the four bombers involved.
CNN's Nada Husseini and Saad Abedine contributed to this report.
FOLLOW THIS TOPIC