Netanyahu signals progress on settlement talks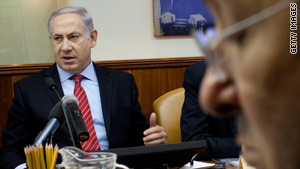 Israeli Prime Minister Benjamin Netanyahu meets with his cabinet Sunday ahead of settlement talks with the U.S.
STORY HIGHLIGHTS
Israeli prime minister's office releases statement expressing optimism
The statement does not detail "understandings" reached with Clinton
Jerusalem is not included in the discussion
Jerusalem (CNN) -- Israeli Prime Minister Benjamin Netanyahu hopes to wrap up talks soon with the U.S. administration and present to his cabinet a proposed agreement on settlement building "that will reflect the understandings that were achieved with Secretary of State [Hillary] Clinton," his office said in a statement Wednesday.
The statement did not specify what those understandings may be.
"If the U.S. document will be formed according to these principles, than [sic] this will be an excellent agreement for the state of Israel and the P.M. will push for a positive decision in the cabinet," the statement said. It added that Jerusalem was not part of the discussion. "The Israeli position has been clear all along that building in Jerusalem was, is and will continue."
The statement came a day after a State Department spokesman said the United States was committed to enticing Israeli and Palestinian leaders back into peace talks, which stalled Monday over failure to reach agreement on a West Bank settlement freeze agreement.
"We're prepared to do everything we can to create the conditions for both the Palestinians, the Israelis to have confidence to return to direct negotiations," State Department Spokesman P.J. Crowley told reporters Tuesday.
On Monday, an Israeli government source said that Netanyahu was insisting on a number of conditions for a settlement freeze before presenting any agreement to the cabinet.
The source said the problem was Palestinian objections to understandings reached in talks between Netanyahu and Clinton in New York.
Netanyahu, the source said, wanted written guarantees the Israelis could continue building in Jerusalem, that the freeze would expire in 90 days and would not be extended and that the United States would not allow any initiative that would go beyond the negotiations.
Crowley said Tuesday that he still believes that an agreement can be reached within the 12-month period that Clinton outlined in August.
The proposal could be a difficult sell for right-wing members of Israel's coalition government.
As part of the proposed deal, Israeli government sources said, U.S. President Barack Obama would ask Congress to approve the sale of 20 advanced fighter planes to Israel.
Mustafa Barghouti, an independent Palestinian legislator, described the proposal as "nonsense."
"Why should Israel receive incentives for stopping violations of international law?" he asked Tuesday. "And why is the freeze only for 90 days if everyone agrees that settlements are a violation of international law and are the main obstacle to peace?"
The absence of limits on Israeli construction in East Jerusalem has been a source of major conflict between Palestinians and Israelis.
FOLLOW THIS TOPIC