Lebanese court sentences radical cleric to life in prison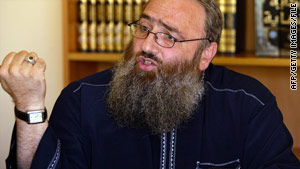 While saying he believed membership in al Qaeda to be a blessing from God, Bakri said he is not affiliated.
STORY HIGHLIGHTS
Omar Bakri Mohammed says the sentence was a "shock and surprise"
He says he was accused of providing military training to an al Qaeda-affiliated group
He calls the move an attempt to "suppress the voice of Islam"
(CNN) -- A court in Lebanon has sentenced radical Islamist preacher Omar Bakri Mohammed to life in prison for aiding aiding an al Qaeda-affiliated group in Lebanon.
Reached at his home in Tripoli, Bakri said the sentence came as a "shock and surprise."
He told CNN he was sentenced on charges of providing military training, including weapons use, to the group. Bakri denied the accusations.
Bakri described the move against him as political and an attempt to "suppress the voice of Islam."
The trial of alleged members of the group had been under way for several years, but at no point had he been told that he was among those on trial, Bakri said.
He said he had been given 15 days to appeal, but had no intention of doing so because he did not recognize the jurisdiction of what he called "a manmade court."
Bakri told CNN he was not planning to go into hiding and would continue speaking out. Asked what he would do if police were to try to arrest him, he said, "Let it be."
Bakri said that he did not condemn al Qaeda, adding that he believed membership to be a blessing from God. However, he said, he had never been a member himself.
He added that he had not preached in public in Lebanon nor had he set up any organizations there. His teaching, he said, was done via the internet to followers in countries that included Britain, Canada, the United States and Australia.
Bakri lived in Britain for 20 years until shortly after the July 7, 2005, bomb attacks in London, when he fled. In the mid-1990s, he formed the now-disbanded radical group Al Muhajiroun.
Al Muhajiroun has been linked to a string of attacks and foiled plots, including the London attacks, and a plot to blow up a shopping center using fertilizer-based explosives.
Britain's Home Office issued an order in 2005 banning Bakri from returning to Britain "on the grounds that his presence is not conducive to the public good," a Home Office spokesman said at the time.
In an interview with CNN in 2005 in London, Bakri said he played no role in the July 7 bombings, which killed 52 people. He condemned the attack and said he did not know the four bombers involved.
The British government has called Bakri a radical who incites his followers to violence.
Bakri has proudly proclaimed himself an extremist, but told CNN he was part of the solution to stopping terrorist attacks and not part of the problem.
FOLLOW THIS TOPIC