Security forces say they thwarted a bomb attack in southern Yemen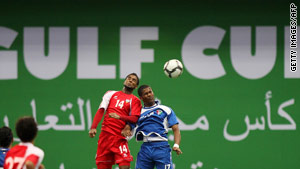 The Gulf Cup soccer tournament is scheduled to start November 22 and run through early December.
STORY HIGHLIGHTS
The attack was to target a sports stadium
A regional soccer tournament is set to take place at the stadium next month
Yemeni officials insist the country is ready to host the competition
(CNN) -- Yemeni security forces have thwarted a plan to bomb a sports stadium in the southern city of Aden, scheduled to host the Gulf Cup soccer tournament next month, officials said Sunday.
Aden Security Chief, Brigadier-General Abdullah Giran said a suspected member of a separatist movement was caught placing a bag that contained about 1,800 grams of dynamite in the vicinity of Al-Wahdah stadium.
Giran declined to say when the incident took place.
The Gulf Cup soccer tournament, scheduled to start November 22 and run through early December, will host teams from Iraq, Yemen and six Gulf States.
The Yemeni government is eager to show it can maintain order as several of its neighbors have voiced concern the country might not be secure enough to host the competition.
Ahmed al Eisi, head of the Yemeni Football Association, is touring the region to invite sports ministers to attend the opening of the games, according to Saba, Yemen's official news agency.
"He affirmed all stadiums and facilities are ready for the championship, and the trip aims to kill all doubts and bids about the possibility that Yemen will be unable to host the championship," Saba said.
Also Sunday, a hearing was held in Aden for five suspects accused of blowing up explosives in a sports center, according to the news agency. It was not immediately clear when the attack, which Saba said killed four people, took place.
Yemen has become a key battleground for al Qaeda since a local affiliate calling itself al Qaeda in the Arabian Peninsula was established in 2009.
Over the weekend, security forces there swept into Shabwa province, a region thought to be a haven for al Qaeda. More than 1,000 soldiers and security officials were reported to be involved in the operation.