Iraq's high court orders parliament to get to work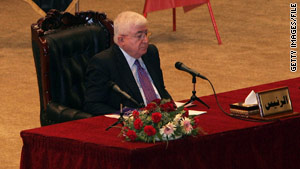 Iraq's acting speaker of parliament, Fouad Massoum, was ordered Sunday to end the current session.
STORY HIGHLIGHTS
Iraq's high court orders parliament to choose speaker and deputies immediately
Iraq's Supreme Judicial Council says current parliamentary session is unconstitutional
Legislators have been haggling over a new government since elections in March
Baghdad, Iraq (CNN) -- An Iraqi high court on Sunday ordered the current parliamentary speaker to begin the process that will fill key positions in the legislation body, and also ruled that the current open session of parliament is unconstitutional.
Acting Speaker of Parliament Fouad Massoum was ordered to end the current session, according to the spokesman of the Supreme Judicial Council of Iraq, Judge Abdul Sattar Beeraqdar. The council found it unconstitutional under Iraqi law, which limits such sessions to three weeks, the judge told CNN.
The court went on to rule that legislators must begin filling key parliamentary positions -- specifically, the positions of speaker and deputies -- without delay. Further, Massoum is ordered not to begin a new session of Parliament until the work of filling these key positions has begun.
The decision stemmed from a lawsuit against Massoum brought by a number of non-governmental organizations in Iraq.
Iraq's government has been in limbo for months. Elections in March gave the opposition al-Iraqiya bloc two more seats in parliament than Prime MInister Nuri al-Maliki's National Alliance coalition, but al-Iraqiya has not been able to muster the support required -- 163 seats in the 325-member Parliament -- to form a new government.
In September, al-Iraqiya, a largely cross-sectarian bloc which took 91 seats in the March 7 vote, said it would not participate in a government headed by the al-Maliki. Just a few days later, the National Alliance, which won 89 seats in the election, tapped al-Maliki for another term as prime minister.
CNN's Mohammed Tawfeeq and Tess Eastment contributed to this story.
FOLLOW THIS TOPIC