Jerusalem conference hailed by Israel, slammed by Palestinians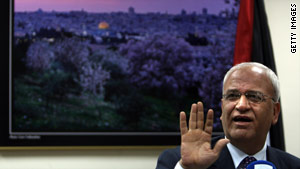 By hosting the conference, Israel seeks de facto recognition of its illegal annexation of East Jerusalem, says Saeb Erakat.
STORY HIGHLIGHTS
The issue of Jerusalem is in the backdrop
OECD says says conference doesn't imply political meaning
Erakat says Israel is seeking de facto recognition
Jerusalem (CNN) -- A global economic development agency plans to hold its biannual tourism conference in Jerusalem this week, a move that is welcomed by Israel and slammed by the Palestinians.
The Organization for Economic Co-Operation and Development -- which scheduled the meeting from Wednesday to Friday -- usually holds the conference in Paris, France.
The issue of the capital is in dispute. Israel has established its capital in all of Jerusalem. Palestinians consider East Jerusalem as the capital of the future Palestinian state. Nations with ties to Israel question the legitimacy of the capital's present location and have their embassies in Tel Aviv.
Some member countries such as Turkey have already announced that they will not send delegates to the conference because it is being held in Jerusalem, Israeli Tourism Minister Stas Misezhnikov, told the Israeli daily newspaper Ha'aretz.
"I strongly denounce the states that surrendered to threats," Misezhnikov said.
"The conference -- with the participation of 21 ministers, deputy ministers and organization heads -- will take place as planned in Jerusalem. This will be a declaration of intent and a seal of approval on the fact that we have a state whose recognized capital is Jerusalem."
Angel Gurria, OECD secretary general, quickly criticized the statement regarding Jerusalem.
He sent a letter to the Israeli Prime Minister Benjamin Netanyahu, demanding clarification of the comments and also clarified that the OECD has made it clear to Israel that holding the conference in Jerusalem was not meant to have political implications.
Palestinians did not waste any time calling on OECD member countries to boycott participation in the tourism conference and called upon other OECD members to make similar moves to those who are not sending delegates.
Palestinian chief negotiator, Saeb Erakat, in statement said "by hosting the OECD conference in Jerusalem, Israel seeks de facto recognition of its illegal annexation of East Jerusalem, and by not attending; countries have sent Israel a clear message that it is not a state above the law."
Erakat also called upon the participating countries "to cancel their participation and to publicly repudiate illegal Israeli actions, including, the unilateral annexation of occupied East Jerusalem."
In its weekly Cabinet meeting on Monday the Palestinian government led by Prime Minister Salam Fayyad called for "the cancellation of this conference in the city, so as not to give Israel an opportunity to legitimize its occupation and annexation of East Jerusalem," which the Palestinian government says is "against international laws, international norms and conventions, in particular Security Council Resolution 478, which calls the world not to recognize the Israeli occupation and illegal annexation of Jerusalem."
Another player in the region that followed suit in urging world countries to boycott the conference was the Arab League. A letter sent by Arab League Assistant Secretary General Mohamd Sobhie to world leaders "urged all countries to boycott the conference."
After international pressure, Israel has decided to cancel guided tour itinerary originally scheduled for the participating delegates to visit East Jerusalem's holy sites in a move not to create more controversy and conflict.
The conference is Israel's first hosted OECD conference since Israel became a member of the OECD in May of 2010.