Iran apparently arrests son of woman sentenced to stoning, group says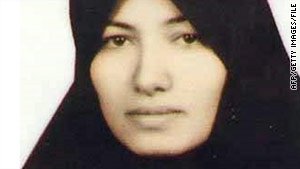 A woman identified as Sakineh Mohammadi Ashtiani denied reports she was lashed over a photo, state-run media says.
STORY HIGHLIGHTS
Two German journalists also held; they were interviewing the woman's son and lawyer
State media confirms the arrests of the foreigners
Authorities say the men did not have proper credentials
(CNN) -- The son and lawyer of an Iranian woman sentenced earlier this year to death by stoning appear to have been arrested in Tabriz, Iran, a spokeswoman for the International Committee Against Stoning said Monday.
Two German journalists who were conducting interviews with the men at the time also were arrested, Mina Ahadi told CNN.
Iran's prosecutor general, Gholam-Hossein Mohseni-Ejei, confirmed to the official Islamic Republic News Agency on Monday that two foreign nationals had been arrested, though he did not specify what country they are from.
IRNA reported that the foreigners entered Iran as "tourists" to interview Sajjad Ghaderzadeh, the son of Sakineh Mohammadi Ashtiani, who was convicted of adultery in 2006 and sentenced to death by stoning.
Authorities determined that the two foreigners "were not reporters, or at least did not have the proper credentials," the semi-official Islamic Student News Agency reported.
Ahadi told CNN she had been in contact with the two journalists to help set up the interview prior to their visit to Iran.
She was set up on a conference call with the journalists Sunday, so she could translate from Farsi to German. She said that during the interview, one of the journalists yelled, "what is happening, what is going on?" He then told Ahadi that "I have to hang up the phone now," she said, adding she could hear someone loudly knocking on the door to the office of Ashtiani's lawyer, Houtan Kian, where the interview was being held.
Ahadi said she has not been able to contact Ghaderzadeh or the journalists. Ghaderzadeh's family told her that he did not return home Sunday night, and the hotel where the two Germans were staying told her the pair did not return to their room Sunday night.
CNN has tried to reach Ghaderzadeh and Kian, but both of their cell phones were turned off.

Most popular stories right now