Arab League punts on Mideast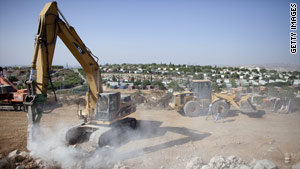 The latest round of Mideast peace talks have stalled over the Israeli settlements issue.
STORY HIGHLIGHTS
Arab nations preparing a statement warning of settlements issue
Statement will acknowledge talks are not resuming, diplomat says
No explicit deadline is set
Washington (CNN) -- Arab nations meeting in Libya are preparing a statement that warns that the Israeli settlements issue could scuttle the latest round of Mideast peace talks and, in effect, gives the United States a month to find a solution before the nations recommend further action, a senior Arab diplomat said Friday.
The diplomat said the statement, to be issued by the Arab League Ministerial Committee on the Arab Peace Initiative, does not recommend ending the talks but will acknowledge that talks are not resuming because of the settlement issue.
The diplomat added that, while it will not state an explicit deadline, it will note that the committee will meet again in a month to take stock. U.S. officials hope to secure some kind of agreement on settlements with the Israelis before then, the diplomat said.
The statement will voice support for the U.S. efforts and President Obama's speech at the U.N. General Assembly last month, and will call for continued engagement with the president and the Obama administration to establish a conducive atmosphere for talks to resume, the diplomat said.
"No doors were shut, this is just an acknowledgment of the realities that things are stalled because of settlements and we feel that negotiations can't resume because settlement activity is ongoing," the diplomat said.
State Department spokesman P.J. Crowley said Friday night that the United States appreciates the statement of support for its efforts.
"We will continue to work with the parties, and all our international partners, to advance negotiations toward a two-state solution and encourage the parties to take constructive actions toward that end," Crowley said.
Rumors about officials suggesting "indirect talks" have spread, but the diplomat said the statement does not mention this possibility and said the feeling of the Arabs is that the United States should find a "conducive atmosphere" for the talks to resume -- in other words -- agree to a deal on settlements.
FOLLOW THIS TOPIC